I used to get very anxious about packing my kid's school lunch. I was so concerned with making them healthy, but I also wanted to make sure my kids would actually eat it and that they wouldn't get made fun of for their "healthy lunch."  Plus. there's all of this pressure to be "creative" so they don't get bored with same lunch day after day after day!
So, here are some tips that have helped me:
Meal prep at the beginning of the week. For example, I bake a loaf of homemade sourdough and  cut up all of our raw veggies to make it easy to put in bags for lunch.

Include your kids in the "school lunch making" process. I even have my kids helps with the produce shopping because if they help buy and make it, then they're more likely to eat it.

Make extra for dinner because it's perfect for lunch leftovers! 

Have a stocked pantry with your kid's favorite healthy snacks. You'll see some of our favorites below.

Have the right lunch accessories and tools to make packing a lunch easy. Here are my suggestions.
Now, to help you keep the "creativity" flowing, here are 11 gluten-free school lunch meals that I've packed for my kids:
Lunch #1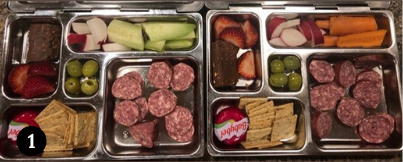 Organic beef sausage
Organic raw veggies: carrots, radishes and cucumbers
Organic strawberries
Babybel Cheese
Lunch #2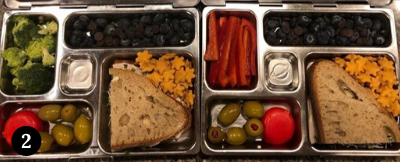 Babybel Cheese
Organic blueberries
Organic raw veggies: broccoli and red peppers
Turkey sandwich with sprouts on homemade sourdough
Lunch #3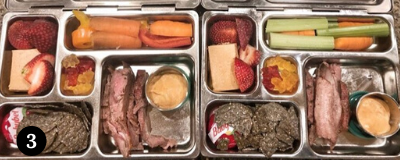 Lunch #4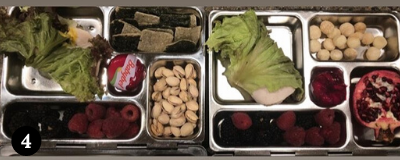 Raw macadamia nuts and pistachios
Organic turkey lettuce wrap (See recipe and video below.)
Organic raspberries and blueberries
Organic pomegranate
Lunch #5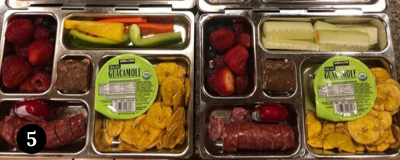 Organic strawberries, blueberries and raspberries
Organic veggies: cucumbers, carrots, peppers
Organic guacamole
Organic beef kielbasa
Babybel Cheese
Lunch #6
Lunch #7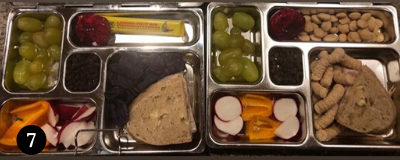 Babybel Cheese
Organic cotton candy grapes
Almonds
Organic veggies: peppers and radishes
Turkey sandwich on homemade sourdough
Lunch #8
Turkey sandwich on homemade sourdough
Pistachios
Organic apple slices with cinnamon
Organic veggies: carrots and radishes
Babybel Cheese
Lunch #9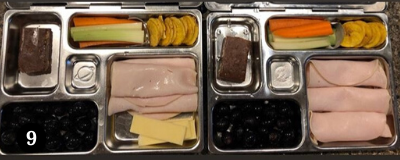 Organic veggies: carrots and celery
Organic grapes
Organic turkey with raw cheese, mayo and/or mustard
Lunch #10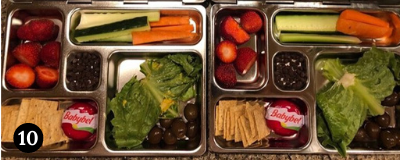 Organic turkey lettuce wrap (see the recipe and video below)
Babybel Cheese
Organic strawberries
Organic veggies: cucumber, celery and carrots
Lunch #11

Organic veggies: mushrooms, cucumbers and radishes
Raw macadamia nuts
Rice cake with almond butter
Finally, here's a "sandwich" that's super simple and my kids love: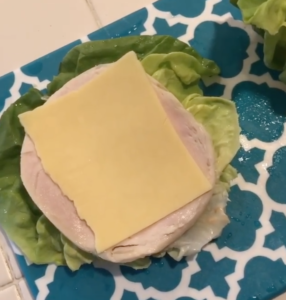 Print
Turkey Lettuce Wraps
Make sure you purchase mayonnaise that doesn't have any canola or soy bean oil in it. Sunflower oil is a better option.
Ingredients
Organic butter leaf lettuce
Organic turkey breast
Instructions
I layer the wrap in the following order: lettuce, mustard/mayo, turkey and cheese
Roll it and insert it a reusable bag.
---
Please Note: This post contains affiliate links. If you make a purchase using these links, there's no additional charge to you, and I will receive a small commission from the company. This helps to cover the basic costs of this website and allows me to continue providing you with free content. Thanks so much for your support!