Stress…we all deal with it, right?! In fact, you might just think that stress is simply a "normal part" of daily life.
43% of all adults suffer adverse health effects from stress.

75% to 90% of all doctor's office visits are for stress-related ailments and complaints
Um, this "normal"…and the fact that so much stress can lead to chronic diseases like mental illness, digestive disorders, heart disease, autoimmune disease, infertility, cancer, alcoholism and so much more…is NOT ok!
So, I wanted to give you some ideas on how you can help to manage your stress.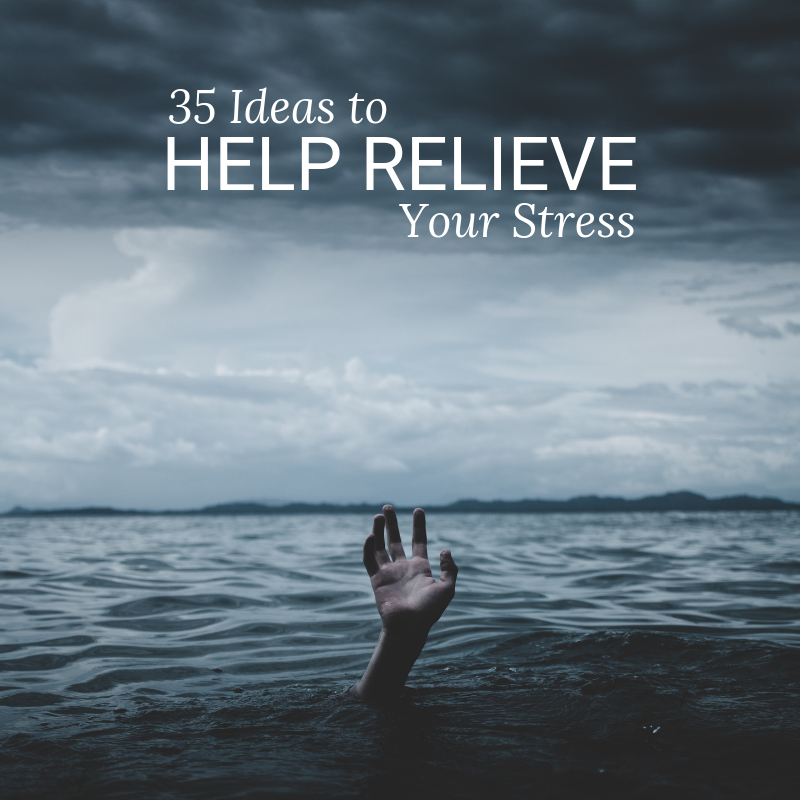 I've found that some of these ideas are more helpful than others for me. However, my goal is to get the wheels turning in your brain and to encourage you to become proactively aware of your stress and to intentionally find ways to help manage it.
You, your health and your quality of life deserve it!
Also…if you've found other ways that have helped you that isn't listed here, please share in the comments below. I know it will help someone!
Here are 35 ideas to help relieve your stress.
Pray

.

Get enough rest and go to bed on time. Aim for 8-9 hours of sleep per night.

Get up on time so you can start the day unrushed. Implementing my "morning routine" has been a game changer for me.

Say "No" to projects that won't fit into your schedule or that will compromise your mental health. My motto is, if it is not a HELL YES, then it is a HELL NO .

Delegate tasks to capable others.

Simplify, declutter your life and get organized so everything has its place. This Life Lab has been an empowering tool for me.

Less is more…although one is often not enough, two are often too many.

Allow extra time to do things and to get to places.

Pace yourself. Spread out big changes and difficult projects over time. Don't lump the hard things all together.

Slow down and take one day/moment at a time. Here's how this made a big difference for our family when we were in the midst of cancer treatment.

Separate worries from concerns. If a situation is a concern, find out what God would have you do and let go of the anxiety. If you can't do anything about a situation, let it go. 

Live within your budget. Don't use credit cards for ordinary purchases, and here are some ideas I shared on how to eat on a budget.

Have backups…i.e. an extra car key in your wallet, an extra house key buried in the garden, extra stamps, etc.

K.M.S. (Keep Mouth Shut). This single piece of advice can prevent an enormous amount of trouble.

Do something for the "kid in you" every day.

Download a Bible app onto your phone so you can read while waiting in line.

Eat a balanced, nutrient-dense diet. If you feel lost on how to start, here are some blog posts that might help. Also, be sure to include healthy fats into your diet. Here's why.
Move your body every day. Here are some ideas, but be sure that you do something you enjoy!
Listen to a podcast while driving that can help improve your quality of life. I list some of my favorites in this post.
Keep a journal and write down thoughts and inspirations. This has been a game changer for me. Here's a good place to start.

Find time to be alone every day, even if the time's short.

Having problems? Talk to God on the spot. Try to nip small problems in the bud. Don't wait until it's time to go to bed to try and pray.

Make friends with inspiring, loving and spiritual people.

Keep a list of favorite scriptures on hand. I use the "Notes" section on my phone for this.

Remember that the shortest bridge between despair and hope is often a good "Thank you, Jesus."

Laugh.

Laugh some more! (Yes, this deserves 2 bullets…it's THAT important!)

Take your work seriously, but not yourself at all.

Develop a forgiving attitude. Most people are doing the best they can.

Be kind to unkind people. They probably need it the most.

Sit on your ego.

Talk less. Listen more.

Use essential oils. If you're new to essential oils, here's a good place to start.

Remind yourself that you're not the general manager of the universe.

Every night before bed, think of one thing you're grateful for that you've never been grateful for before. God has a way of turning things around for you. "If God is for us, who can be against us?" (Romans 8:31)
Final Thoughts
I pray that you'll experience hope from reading this, and that you'll immediately start to implement some of these steps to help you reduce your stress and experience more joy and health!
And if you have some additional ideas that aren't listed here but have helped you, please share in the comments below! I know it will be a blessing to another reader!
---
Please Note: This post contains affiliate links. If you make a purchase using these links, there's no additional charge to you, and I will receive a small commission from the company. This helps to cover the basic costs of this website and allows me to continue providing you with free content. Thanks so much for your support!