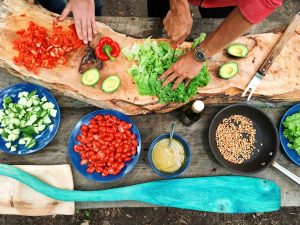 Sweet potatoes and bacon don't need any more reason to be delicious, but I want to introduce you to the perfect foodie marriage with this recipe. In fact, the weekly "Stuffed Sweet Potato Sunday's" has given "Taco Salad Tuesday's" a run for its money!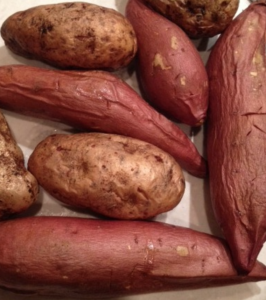 Sweet potatoes are full of nutrients, including antioxidants and anti-inflammatory properties. Contrary to their family member, the russet potato, sweet potatoes are much lower in sugar and carbohydrates. This had led to their sudden rise in fame over the last few years because nutrition-minded athletes and hipsters have replaced inflammatory grains and starchy carbs with this flavorful and versatile root vegetable.
And according to Dr. Mercola,
"Orange sweet potatoes have anti-carcinogenic properties, [however] purple sweet potatoes have better cancer-fighting abilities because they have cyanidins and peonidins, which have a positive effect against cancer cell growth."
So, I hope you enjoy this nutrient dense powerhouse as much as we do!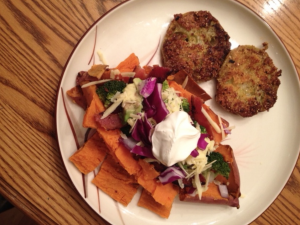 Print
Bacon Stuffed Sweet Potatoes
Yield 4 servings
Ingredients
4 large organic sweet potatoes
6 TBSP grass-fed butter
2 large avocados, cut into chunks
1/2 small red cabbage, shredded
1 large bunch organic broccoli, steamed and chopped
1 medium organic onion, chopped
1/2 lb raw organic cheddar, shredded
6 TBSP cultured, organic sour cream
1 lb pastured, organic pork bacon, fried and broken into pieces (reserve the bacon grease)
Instructions
Preheat oven to 375° F, scrub sweet potatoes and prick holes all over the skin.
Bake sweet potatoes for 45 minutes or until skin begins to separate from flesh and the potato feels soft.
When potatoes are done, slice lengthwise. Add 2 TBSP butter to each potato.
Fill each potato with toppings, as desired.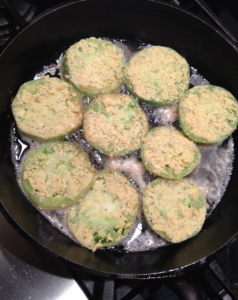 Print
Fried Green Tomatoes
Many of us have unripened tomatoes on the vine, but now that the weather has changed, we likely won't see them turn a beautiful deep red. So, here's a wonderful way to still enjoy the bounty of your garden in the final weeks of the season.
Instructions
Combine almond flour, garlic, salt, pepper, parmesan and garlic powder until mixed well.
Slice tomatoes into rounds and dip each tomato in the almond flour mixture, making sure to coat each side well.
Heat up reserved bacon grease. Place tomatoes in frying pan.
Fry until tomato is crispy and browning, then flip and repeat.
Remove from pan and set aside.
For more delicious grain-free recipes, check out my 30 Day Real Food Meal Plan!
---
Please Note: This post contains affiliate links. If you make a purchase using these links, there's no additional charge to you, and I will receive a small commission from the company. This helps to cover the basic costs of this website and allows me to continue providing you with free content. Thanks so much for your support!