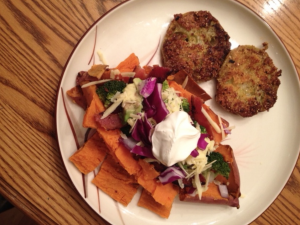 Bacon Stuffed Sweet Potatoes
Yield 4 servings
Ingredients
4 large organic sweet potatoes
6 TBSP grass-fed butter
2 large avocados, cut into chunks
1/2 small red cabbage, shredded
1 large bunch organic broccoli, steamed and chopped
1 medium organic onion, chopped
1/2 lb raw organic cheddar, shredded
6 TBSP cultured, organic sour cream
1 lb pastured, organic pork bacon, fried and broken into pieces (reserve the bacon grease)
Instructions
Preheat oven to 375° F, scrub sweet potatoes and prick holes all over the skin.
Bake sweet potatoes for 45 minutes or until skin begins to separate from flesh and the potato feels soft.
When potatoes are done, slice lengthwise. Add 2 TBSP butter to each potato.
Fill each potato with toppings, as desired.
Recipe by Season Johnson at https://www.seasonjohnson.com/bacon-stuffed-sweet-potatoes-fried-green-tomatoes/