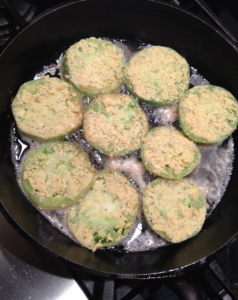 Fried Green Tomatoes
Many of us have unripened tomatoes on the vine, but now that the weather has changed, we likely won't see them turn a beautiful deep red. So, here's a wonderful way to still enjoy the bounty of your garden in the final weeks of the season.
Instructions
Combine almond flour, garlic, salt, pepper, parmesan and garlic powder until mixed well.
Slice tomatoes into rounds and dip each tomato in the almond flour mixture, making sure to coat each side well.
Heat up reserved bacon grease. Place tomatoes in frying pan.
Fry until tomato is crispy and browning, then flip and repeat.
Remove from pan and set aside.
Recipe by Season Johnson at https://www.seasonjohnson.com/bacon-stuffed-sweet-potatoes-fried-green-tomatoes/