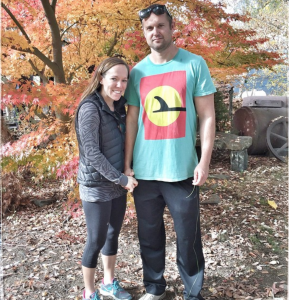 My hubby turned 32 last week. So, it's almost time for me to trade him in for a younger version…just kidding! Actually, we had 2 sick littles at home, so we stayed in and celebrate with some family bonding and super yummy food.
So, here's the birthday day menu with some recipes…
Breakfast : "Jack in the Box" Breakfast Sandwich
Let me first explain the inspiration behind this creation!
The other night we were watching television and a "Jack in the Crack" commercial came on advertising their new breakfast sandwich. Well, I couldn't help myself and muttered, "that sounds really good!" This of course led to my husband shooting me a look of utter excitement and him practically falling off of the couch to grab to his keys to "selflessly" go and get me some of the "frankenfood" creation.
I quickly retracted with "no, I mean I am totally going to make this tomorrow…for your birthday!" And as I am sure he was a bit disappointed that he no longer had an excuse to hit up the drive thru at 11pm like his former college day, I was also sure that I wouldn't disappoint!
Hence, this creation: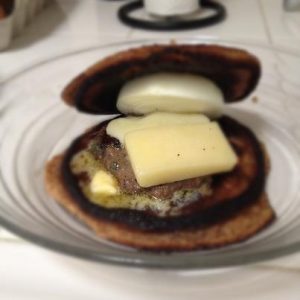 Basically, it involves:
maple breakfast sausage

almond flour pancakes

organic pastured eggs

a big ol' chunk of organic raw cheese

grass-fed butter

grade B maple syrup
Dinner: Super yummy Rack of Lamb with tasty Brussel Sprout Slaw
Dessert: Cake!
---
Recipes:
---
Please Note: This post contains affiliate links. If you make a purchase using these links, there's no additional charge to you, and I will receive a small commission from the company. This helps to cover the basic costs of this website and allows me to continue providing you with free content. Thanks so much for your support!