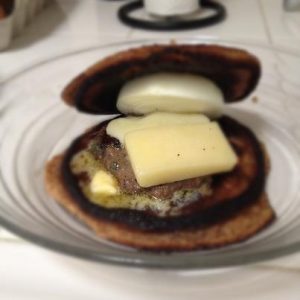 "Jack in the Box" Breakfast Sandwich
Instructions
Prepare sausage. See recipe below.
Prepare pancakes. See recipe below.
Poach or fry eggs so that yolk is runny and white is completely cooked. You will need 1 egg per sandwich.
Slice raw cheddar and place on top of one pancake.
Place sausage on top of pancake and egg on top of pancake.
Cover with another pancake.
Drizzle maple syrup on top and use butter as desired.
EN-FREAKING-JOY!
Recipe by Season Johnson at https://www.seasonjohnson.com/birthday-celebration-breakfast-sandwich-chocolate-cake/