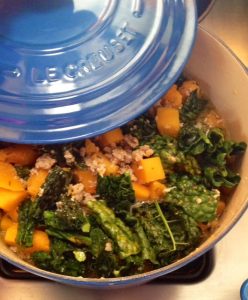 This Butternut Squash & Bacon Stew is one of our favorite healthy, nutrient dense meals.
I've shared that we follow a Ketogenic diet to assist Kicker's body get rid of the cancer. Well, many people assume that eating this is boring, too bland, and maybe a bit too complicated. This delicious recipe will prove all of those assumptions wrong!
So, here's what we are having for dinner…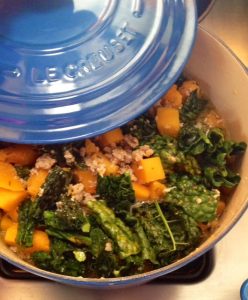 Print
Butternut Squash & Bacon Stew
Yield 4 + Leftovers
Instructions
Slice the butternut squash in half, lengthwise.
Scoop out the seeds and discard.
Peel the skin off of each side. Then, cut into 1 inch cubes.
Melt butter in a large pot. Then, add the garlic and squash.
Sauté for about 10 minutes on medium low, stirring frequently.
Add the bacon and ground chicken. Continue cooking on medium for another 10 minutes until chicken is browned.
Pour in the broth, kale and add the spices. Cook on medium low for 1 hour.
10 minutes before the stew is done, add the raw cream or coconut milk.
Garnish with avocado and serve.
And now…what are YOU having for dinner tonight?
---
Please Note: This post contains affiliate links. If you make a purchase using these links, there's no additional charge to you, and I will receive a small commission from the company. This helps to cover the basic costs of this website and allows me to continue providing you with free content. Thanks so much for your support!