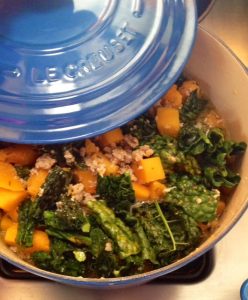 Butternut Squash & Bacon Stew
Yield 4 + Leftovers
Instructions
Slice the butternut squash in half, lengthwise.
Scoop out the seeds and discard.
Peel the skin off of each side. Then, cut into 1 inch cubes.
Melt butter in a large pot. Then, add the garlic and squash.
Sauté for about 10 minutes on medium low, stirring frequently.
Add the bacon and ground chicken. Continue cooking on medium for another 10 minutes until chicken is browned.
Pour in the broth, kale and add the spices. Cook on medium low for 1 hour.
10 minutes before the stew is done, add the raw cream or coconut milk.
Garnish with avocado and serve.
Recipe by Season Johnson at https://www.seasonjohnson.com/butternut-squash-bacon-stew/