There's really nothing better than a bowl of ice cream in the summer. Am I right?!
Or are you a cone person?
Well, I'm going to be really honest with you…if I chose to indulge in an ice cream treat, I'd be in the bathroom for the rest of the day!
In fact, if you're lactose intolerant, ice cream is one of the worst things you can eat!
Then again, if you're lactose intolerant, you probably already know this because you've experienced the punishment after indulging in a bowl.
But, did you know that some people who can't handle dairy very well are still able to enjoy cheese or butter?
This is because cheese and butter contain zero carbohydrates or sugar. Lactose is naturally occurring sugars coming from milk. So, when you combine these naturally occurring sugars (lactose) in milk with the added sugar to sweeten ice cream, it can make for a real poop storm, literally.
However, because I'm not here to squelch your dreams or ruin one of your favorite summer indulgences, I have some good news.
There are a couple of options for delicious and nutrient-rich ice cream that contain no lactose!

Yep, you read that right. 🙂
In fact, here are 2 family favorite ice cream recipes that I think you'll love as much as we do.
Also, be sure to have fun playing around with the endless topping possibilities! And if you're looking for more grain-free, refined sugar-free dessert recipes, click here to download 10 of our favorite dessert recipes…and yes, some of them are dairy-free, egg-free or nut-free.
Hope you enjoy!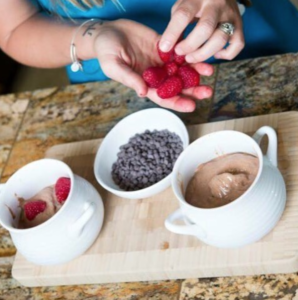 Print
Chocolate Banana Ice Cream (Dairy-Free, Sugar-Free)
Instructions
Place all ingredients in blender or food processor and blend until smooth and creamy.
Top with organic fresh berries and chocolate chips.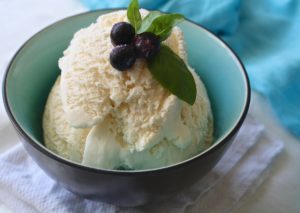 Print
Coconut Vanilla Ice Cream (Dairy-Free)
Instructions
Combine all ingredients together in a bowl and beat with an electric hand mixer.
Turn on the ice cream maker and slowly pour ingredients in. (I use a Cuisinart Ice Cream Maker like this one.)
Follow ice cream maker instructions. Enjoy with fresh berries or chocolate chips on top.
Do you have a favorite summer treat? I'd love to hear in the comments below!
---
Please Note: This post contains affiliate links. If you make a purchase using these links, there's no additional charge to you, and I will receive a small commission from the company. This helps to cover the basic costs of this website and allows me to continue providing you with free content. Thanks so much for your support!