I have a slight obsession with pumpkins! In fact, I am sitting here next to my fire, watching the snow fall and eating a piece of the most delicious pumpkin pie.
It is November, and this means that my obsession is in full gear…pumpkin pie, pumpkin pancakes, pumpkin porridge…you name it!  I even keep a steady aroma of pumpkin diffusing throughout the house by using Clove and Cinnamon Essential Oils. And because they are a certified pure therapeutic grade, they also have powerful antibacterial properties and provide amazing antioxidants to kill the bacteria in the air. (You can read more about them at the very bottom of this post.)
So, cheers to multi-tasking and ways to support my pumpkin passion!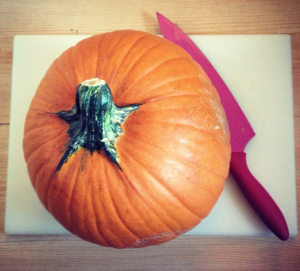 Well, the holidays are no excuse to compromise nutritional standards, especially because they fall during the peak of cold and flu season. In fact, it is very possible to enjoy delicious desserts, nutrient dense meals and comforting beverages while maintaining the integrity of our diet and health!
So, I wanted to share one of my favorite holiday recipes, which is inspired by Heather at Mommypotamus and a great example!

Print
Pumpkin Pie with Sweet Pecan Crust
Ingredients
Pie Crust
Pumpkin Pie Filling
Instructions
Pie Crust
Preheat the oven to 350° F and grease a pie plate with butter or coconut oil.
Add all ingredients except 2 cups of nuts to the food processor. Blend. (Check the consistency - it should be a thick paste.)
Add pecans incrementally until past consistency is reached.
Put the crust mix into the pie plate. Mush it with the back of a spoon or your fingers until it is smooth and flat across the bottom and sides of the pie plate.
Smooth jut a tad over the lip of the plat but not all of the way. (Nut crusts have a tendency to burn easily.)
Put the crust into the oven and bake for 10 - 15 minutes.
Pumpkin Pie Filling
Preheat oven to 350° F.
Cut pumpkin in half and scoop out seeds. (Seeds can be reserved for roasting.)
Place pumpkin halves cut side down, in a baking dish and add 1/4 inch water.
Bake for about 45 minutes. Remove from the oven when you can easily pierce the shell with a fork.
Scoop out the flesh and place in a food processor or blender.
Puree until smooth, adding some of the coconut milk, if necessary to think it out enough to blend.
When the puree is ready, add the rest of the coconut milk, eggs, maple syrup, and spices.
Add filling to pie crust and bake for 45 minutes to 1 hour.
Some Additional Essential Oil Education: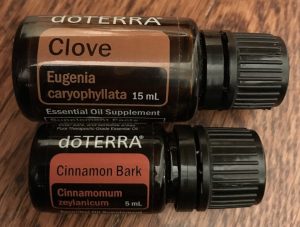 Both Clove and Cinnamon have a few other extraordinary medicinal benefits:
Clove: Soothing, antibacterial, purifying, protects against threats, anti-inflammatory, strong antiseptic, supports cellular health, cleansing, disinfectant, antioxidant and immune stimulant.
Cinnamon: Antibacterial, uplifting, rejuvenating, protects against threats, anti-inflammatory, antimicrobial, antioxidant, cleansing, relaxant, boosts the immune system, astringent, purifier, sexual stimulant and body warming.
To learn more about essential oils and their medicinal benefits, read this post.
---
Please Note: This post contains affiliate links. If you make a purchase using these links, there's no additional charge to you, and I will receive a small commission from the company. This helps to cover the basic costs of this website and allows me to continue providing you with free content. Thanks so much for your support!