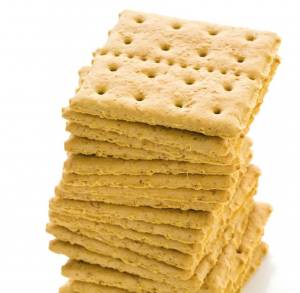 Grain-Free Graham Crackers
Instructions
Preheat oven to 350° F.
Combine almond flour, coconut flour, sea salt, baking powder and cinnamon in a bowl.
In a food processor or stand-up mixer, combine butter or coconut oil, honey, vanilla extract and eggs.
Combine wet and dry ingredients and form into 2 dough balls.
Place each dough ball on a parchment-lined cookie sheet.
Put waxed paper on top, roll the dough out thinly and remove the waxed paper.
Bake for 12-15 minutes until lightly browned.
Remove from heat and let dough cool for about 15-20 minutes. (The crackers will harden as they cool.)
Once they have completely cooled, use a pizza cutter and cut into even squares.
Recipe by Season Johnson at https://www.seasonjohnson.com/grain-free-graham-crackers/