Until recently, my sweet Selah had never had cereal in her short little life. Well, the other day we were out of eggs, so I just broke up a granola bar into pieces and poured milk in the bowl to serve for breakfast.
Immediately, I hear…"MAMA, THIS IS COLD! WHAT'S IN MY MILK?!"
Seriously, she flipped! And even though she loved it after I convinced her to give it a try, I think my little girl will always prefer her warm breakfasts of eggs and bacon, coconut flour pancakes, or soaked oatmeal.
So today, I share this amazing homemade granola recipe and hope it causes some flipping out…in a good way!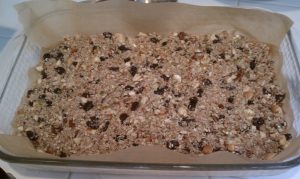 Print
Grain-Free Granola
Ingredients
2 1/2 cups assorted nuts and seeds, soaked and sprouted
1/2 cup organic raisins or other preferred dried fruit
2 cups unsweetened shredded coconut
1/4 cup coconut oil
1/4 cup raw honey
1 tsp or more vanilla extract, based on preference
1/2 tsp sea salt
1 TBSP cinnamon
Instructions
Roughly chop 1 cup of the nuts and seeds. Place in a bowl.
Use your food processor to pulse the other 1 1/2 cups of nuts and seeds into a finer "chop."
Add to the bowl.
Add raisins.
Stir in the dried coconut.
In a saucepan over medium low heat, combine oil, honey, vanilla, salt and cinnamon. Cook until the mixture bubbles.
Pour mixture over the fruit/nut mixture.
Stir to completely combine.
Press the mixture into a parchment-lined pan of some sort. Press HARD.
You can either: 1. Bake the granola at 270F for 2 hours for a more buttery and crispy flavor or 2. Do not bake it and chill for 2-3 hours in the fridge. Then remove from the pan and dig in!