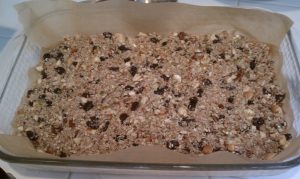 Grain-Free Granola
Instructions
Roughly chop 1 cup of the nuts and seeds. Place in a bowl.
Use your food processor to pulse the other 1 1/2 cups of nuts and seeds into a finer "chop."
Add to the bowl.
Add raisins.
Stir in the dried coconut.
In a saucepan over medium low heat, combine oil, honey, vanilla, salt and cinnamon. Cook until the mixture bubbles.
Pour mixture over the fruit/nut mixture.
Stir to completely combine.
Press the mixture into a parchment-lined pan of some sort. Press HARD.
You can either: 1. Bake the granola at 270F for 2 hours for a more buttery and crispy flavor or 2. Do not bake it and chill for 2-3 hours in the fridge. Then remove from the pan and dig in!
Recipe by Season Johnson at https://www.seasonjohnson.com/grain-free-granola/