I've shared many times about the importance of cleaning up the products used on your skin and that it is just as important as cleaning up your diet. In fact, many times it is actually worse for us to be using toxic products topically than ingesting a toxic food.
"How can that be?"
Well, when you put something on your skin, it's immediately absorbed into the lymphatic system, and this takes some time to travel to the liver to then be detoxed and pushed out of the body. However, when eating something unhealthy, the travel time to the liver is fairly quick, which means it is processed and pushed out of the body much faster.
So, with this in mind, I'm very excited to introduce my dear friend, Pamala Schwarz, NP. She created a non-toxic wipe that disinfects surfaces, and I asked her to share what she learned while developing this product. I think you will be really surprised at what she and her team found to be the secret ingredient to creating a pure cleaning product and how it benefits the gut and the skin!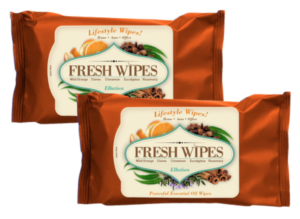 Lactobacillus is a probiotic that has been around since creation. This brilliant bacteria naturally occurs in nature and is the preservative in foods like yogurt, sauerkraut, kombucha, and kimchi. Our ancestors used it for centuries to preserve foods without refrigeration.
Not only does Lactobacillus allow us to preserve foods, it is a good and healthy bacteria for our gut.
Without it, we would be very sick. I like to call them one of the 'good guys'. They help to balance our internal ecosystem and keep you feeling happy, healthy and strong. One round of antibiotics destroys your good guys, and it can take up to two years to rebuild them back up. Our friendly bacteria helps to keep our immune system active and elevates our mood. It is vital to our wellbeing.
Lactobacillus is not only necessary and nutritive for our insides, but it is also nutritive for our skin.
Your skin is the largest organ of our body. It is the barrier that we have to keep the good stuff on the inside and the bad stuff on the outside. Our skin is porous and has the ability to breathe. The tiny pores of our skin allow toxins to exit our body, which is great! However, it also allows whatever we come in contact with (good or bad) to travel into our body.
For example, if you use regular city tap water (treated with chlorine), you absorb more chlorine from your shower than your drinking water! It's true, your skin is like a sponge. That is why it is vital to make sure that everything you put on your body is as natural as humanly possible.
Who would have ever thought that something as natural as water could impact our body negatively? One bathtub full of unfiltered tap water isn't as clean as it looks now is it? Quite the contrary, it is full of disruptive chemicals that cause havoc on your endocrine system – especially your thyroid function.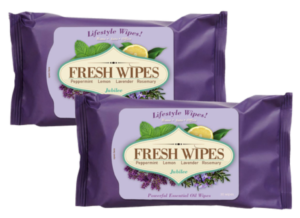 I was so inspired by these learnings that I recently formed a company called Pure Truth, LLC where we are committed to developing the cleanest products we possibly can.
Our vision started about 5 years ago when my friend, Dave Corey, and I had a situation occur that caused a very interesting conversation around clean products.
Have you ever heard that everything you need is right in front of you? Sometimes, we need to just stop and reassess and we usually find the answer we are looking for staring us right in the face. That is exactly what happened in the development of my company's first product, Fresh Wipes.
Dave is an entrepreneur with the ability to dream big dreams. We talked about creating a product that would clean naturally and smell marvelous. A product that we could use to enhance our own lifestyle and one we could offer to the world. We spoke of a need to clean all of the devices we touch every day with a truly natural product.
We decided to start with a wipe. Wipes would be easy, right? Well, not really.
What we learned was the FDA has strict bacteria testing standards that are usually achieved by using harsh chemicals or alcohol. This is why even the so-called natural product companies have bad ingredients in their product. It seems there is just is no getting around it. As hard as we tried to reformulate our solution, it kept failing the tests. At one point, I was not sure if Fresh Wipes was ever going to be a reality.
Failure was not in our vocabulary and we kept at it, year after year. Wouldn't you know it, the answer was right in from of us the whole time. It was Lactobacillus Ferment. One of the 'good guys'! We reformulated our product using this remarkable gift from nature and the rest is history.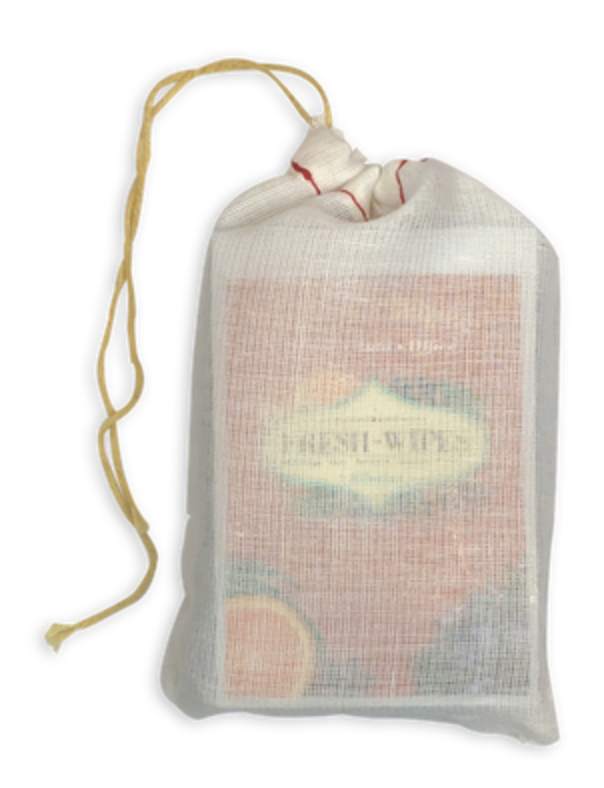 Let me encourage you to only choose natural products for you and your family.
The little ones are the most vulnerable and so susceptible to dangerous and harsh additives. Did you know that most products geared towards children are the ones with the most additives and colors?
It might sound overwhelming, but you don't have to do it all in one day or even in one month, for that matter. Start with just one product in your home.
I tell my clients that if they clean up their whole house water and change out one product a month, that before they know it they might become like one of their weird friends who reads labels and requires more from the products they put their hard earned money towards.
It's easy, just start by replacing your current wipes with Fresh Wipes. The ingredients are water, Essential Oils and Lactobacillus Ferment. That's it! Compare that to the ingredient list on your current wipes.
So, to pre-order before the first run is gone, go to Freshwipes.shop!
Plus, your interest and generosity will pay it forward too because we've partnered with KICKcancER by providing these wipes in every KICKstart Kit they send out to kids with cancer. So, your purchase will allow us to provide even more support to this amazing cause.
Your health is your wealth. It is the greatest asset you have. Taking care of it is worth the investment of time, energy and resources.
---
Pamala Kay Schwarz has a degree in traditional naturopathy and is a Certified Natural Healthcare Practitioner. She is not a medical physician but rather a natural healthcare practitioner. A naturopath utilizes drugless therapies for the purpose of facilitating healing in the human body.
Pamala has spent many years studying the benefits of essential oils in the human body and also received her advanced certification as an NAET practitioner, which is a natural, non-invasive and painless method of allergy elimination. Pamala earned her naturopathic degree from Trinity College of Natural Health. She is also a board certified holistic health practitioner by the American Association of Drugless Practitioners. Pamala is the recipient of the Award of Excellence presented to her by Dr. Devi Nambudripad and The Nambudripad's Allergy Research Foundation for her contribution toward furthering the cause of allergy elimination.