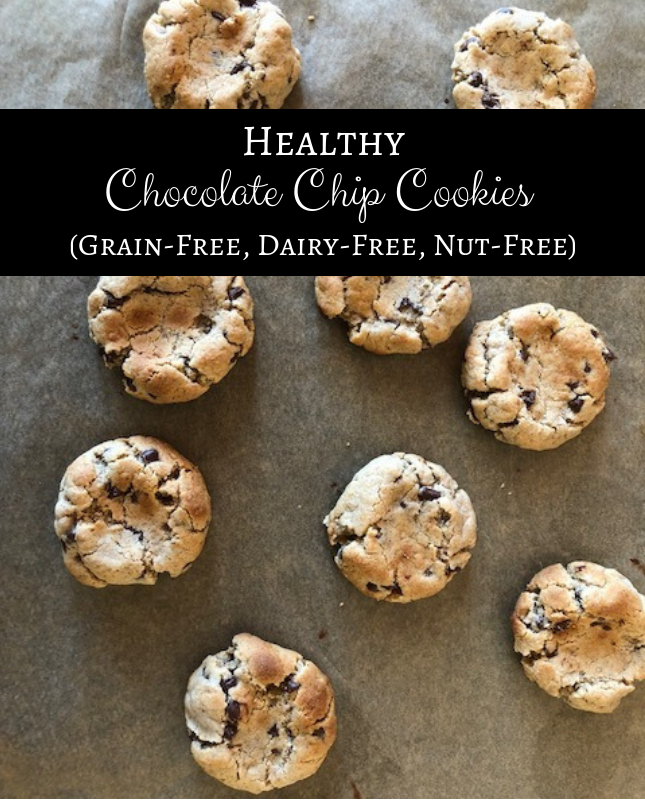 What if I told you that there's such thing as a GRAIN-FREE, DAIRY-FREE, NUT-FREE and REFINED SUGAR-FREE chocolate chip cookie?
You'd probably react the same way I did before I attempted to create this recipe…rolling of eyes and muttering under your breath something like, "cardboard isn't edible."
Well…drum roll please…
There IS such a thing, and they DO taste delicious!
In fact, I may…or may not…have also frozen some of the cookie dough to enjoy as a snack when I have a sweet tooth!
Hope you enjoy, my friends!
Oh, and do you have my Holiday Meal Plan? It's…
FREE!

Grain-free, gluten-free, dairy-free, soy-free and refined sugar-free

Includes 2 yummy desserts

Husband and children tested and approved 😉
If interested, you can enter your information and download it at the bottom of this post.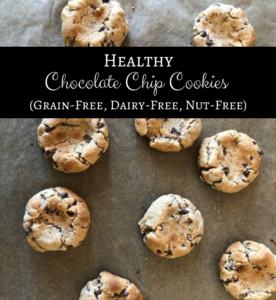 Print
Healthy Chocolate Chip Cookie Recipe (Grain-Free, Dairy-Free, Nut-Free)
Instructions
Preheat the oven to 350 F and line a baking sheet with parchment paper.
In a medium size bowl, combine the Tigernut flour, coconut flour, baking soda and sea salt. Mix well.
In a separate large bowl, combine shortening, vanilla extract, egg, coconut oil and honey. Mix well.
Add the dry ingredients from the medium size bowl to the wet ingredients in the large bowl. Combine and mix all ingredients well.
Fold in the chocolate chips until equally dispersed throughout the dough.
Using a small cookie scoop or a medium sized spoon, place a rounded spoonful of the cookie dough at least 2 inches apart from each other on the parchment paper. Then, slightly flatten with the back of the spoon.
Bake for 8-10 minutes or until lightly browned.
Allow the cookies to cool for at least 10 minutes before enjoying!
Do you have a favorite holiday dish or dessert? I'm always open for more recipe ideas. LOL…so please share in the comments below. Thanks!
---
Please Note: This post contains affiliate links. If you make a purchase using these links, there's no additional charge to you, and I will receive a small commission from the company. This helps to cover the basic costs of this website and allows me to continue providing you with free content. Thanks so much for your support!