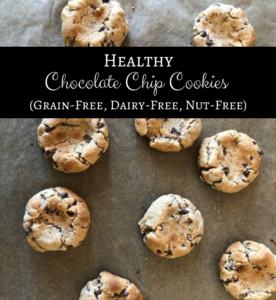 Healthy Chocolate Chip Cookie Recipe (Grain-Free, Dairy-Free, Nut-Free)
Instructions
Preheat the oven to 350 F and line a baking sheet with parchment paper.
In a medium size bowl, combine the Tigernut flour, coconut flour, baking soda and sea salt. Mix well.
In a separate large bowl, combine shortening, vanilla extract, egg, coconut oil and honey. Mix well.
Add the dry ingredients from the medium size bowl to the wet ingredients in the large bowl. Combine and mix all ingredients well.
Fold in the chocolate chips until equally dispersed throughout the dough.
Using a small cookie scoop or a medium sized spoon, place a rounded spoonful of the cookie dough at least 2 inches apart from each other on the parchment paper. Then, slightly flatten with the back of the spoon.
Bake for 8-10 minutes or until lightly browned.
Allow the cookies to cool for at least 10 minutes before enjoying!
Recipe by Season Johnson at https://www.seasonjohnson.com/healthy-chocolate-chip-cookie-recipe/