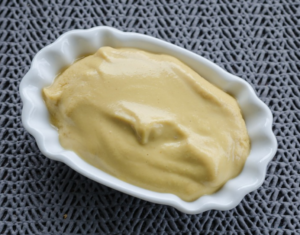 Mustard Recipe
Source: Paleo Leap
There are many ways to prepare mustard, but the basis is typically mustard powder or mustard seeds. The popular French mustard with the seeds is usually called whole- grain mustard, even though it's not a grain, but a seed. The easiest mustard to prepare is a basic mustard made with mustard powder and water. Other mustards, like Dijon and whole-grain mustard, will take more preparation time as the seeds have to soak and the mustard should sit for a few days for the flavors to develop. The seeds are often soaked in white wine for an even deeper flavor. 
Prepared mustard will last for about a month and can be kept out of the refrigerator, but refrigeration stops the heat from developing further. A good idea is to refrigerate your mustard when the desired heat is achieved. Homemade mustards won't be as bright yellow as store bought mustard, but a bit of added turmeric will do the trick to obtain the same bright color. 
Preferably choose glass jars to prepare and store your mustard. 
This is a very basic recipe that can be prepared on demand when you feel like having some mustard. It only takes 1 part water to 1 part mustard powder and you'll get a nice hot mustard. Let it stand for a bit and the heat will reduce. You can play around with the seasoning and use different herbs and spices to create different versions. Vinegar or lemon juice will also add a pleasant tanginess.
Ingredients
1/2 cup mustard powder
1/2 cup water
Sea salt, to taste
Instructions
Combine the mustard powder and water in a bowl and mix well.
Optionally, add a bit of chopped fresh parsley or basil, lemon or lime zest and a tablespoon or two of your favorite vinegar.
Let the mustard stand for about 15 minutes before enjoying. 
Recipe by Season Johnson at https://www.seasonjohnson.com/healthy-condiment-recipes/