Is there any possibility that we can skip past October 31st and pretend like Halloween never happened?
Call me bahumbug, but it really is my least favorite day of the year! Maybe it's the creepiness,  my distaste for dressing up, the extra effort it all requires, or the toxic handfuls of "treats" passed out to small children. Either way, now that I do have young children and they think Halloween is fun, I have no choice.
If you know me, you know that my kids don't eat candy. In fact, if you go with us to the grocery store, you will most likely hear my 4 year old pointing to everything on the shelves that is colorful and loudly declaring, "Momma, that is yucky food coloring!"
Of course, there was one time he was actually pointing to an apple, so I corrected him with "No honey, that's an apple and Jesus made it red."
There was another occasion at the grocery store check out line where my precious 6 year old loudly shared with the little boy behind us who was picking out a bag of M&M's that "that's not healthy. You shouldn't eat that." But don't worry…my daughter then quickly turned to me and asked, "Can I have one?" Ha!
What can I say?! My efforts aren't entirely in vain, but my children are real kids and have real life desires!
So, in our house, we have a annual visitor named, "The Great Pumpkin."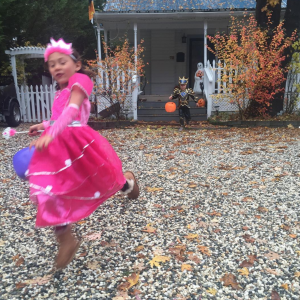 The Great Pumpkin comes every year in the middle of the night and takes the candy back to candy land. In return, he leaves a present for the full bucket of candy he collects.
It's a win-win, right?!
Here's how it worked specifically for us last year:
Last year, Selah received a princess dress, and Kicker received a sword and shield.
And the candy…we dumped it in the trash. I am just NOT going to donate it to the less fortunate, send it to soldiers or save it until next year. It's not worthy of  consumption, especially by anyone that I care about!
Here's a few additional ideas to make Halloween Healthy:
Breakfast:

Snack: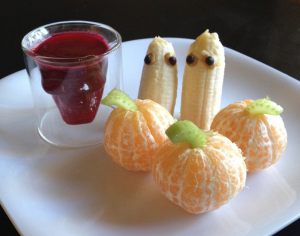 Dinner:
---
Please Note: This post contains affiliate links. If you make a purchase using these links, there's no additional charge to you, and I will receive a small commission from the company. This helps to cover the basic costs of this website and allows me to continue providing you with free content. Thanks so much for your support!