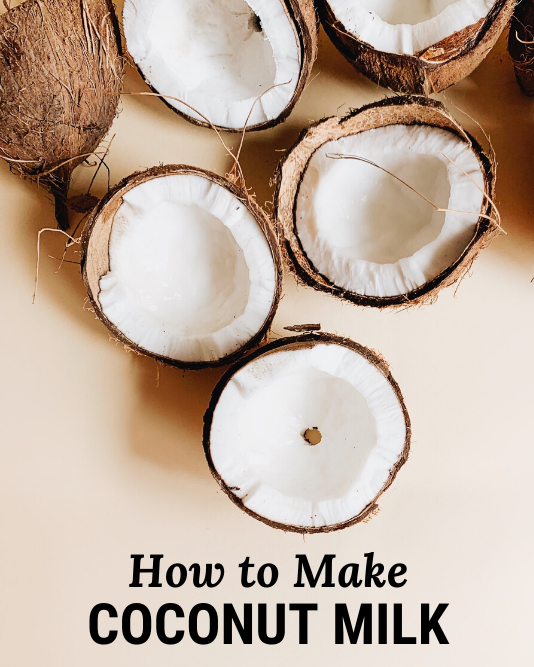 Every week I meal prep! I chop up raw veggies for snacks, make my sourdough bread, whip up a batch of my ranch dressing and make the below coconut milk recipe.
Then, as we jump into our filled and committed weeks, we're still ready…even when this mama is tired.
This coconut milk is literally the easiest thing to make, and it's perfect for those that cannot handle dairy, or even raw milk. We especially love it with my grain-free granola recipe or this coconut crunch cereal.
To show you just how easy it is, here's a video I recently did for my social media pages, but you can also find the full recipe and directions below.
Oh, and I also mention Thrive Market in the video…here's the link to learn more about them, but if you haven't created an account, I would highly recommend it. I buy everything from pantry items to cleaning products and paper goods from them.
Hope you enjoy!
Coconut Milk Recipe
Yields: Approximately 4 cups
Instructions
Heat water to a simmer, not boiling. It should be hot, but not scalding.
Put coconut in blender and add water.
Blend on medium for about 5 minutes. For the last minute, turn to the highest speed.
Pour liquid through a mesh colander to get most of the coconut out. Let it strain for approximately 10 minutes. You can also squeeze through a towel or several layers of cheesecloth to strain further.
Drink immediately or store in the fridge. It should last for about a week and because there are no preservatives or fillers, the "cream" of the coconut milk may separate on the top if stored in the fridge. Just shake or stir before using.
Note: If interested in learning how to make coconut flour from the pulp, click here.
---
Please Note: This post contains affiliate links. If you make a purchase using these links, there's no additional charge to you, and I will receive a small commission from the company. This helps to cover the basic costs of this website and allows me to continue providing you with free content. Thanks so much for your support!