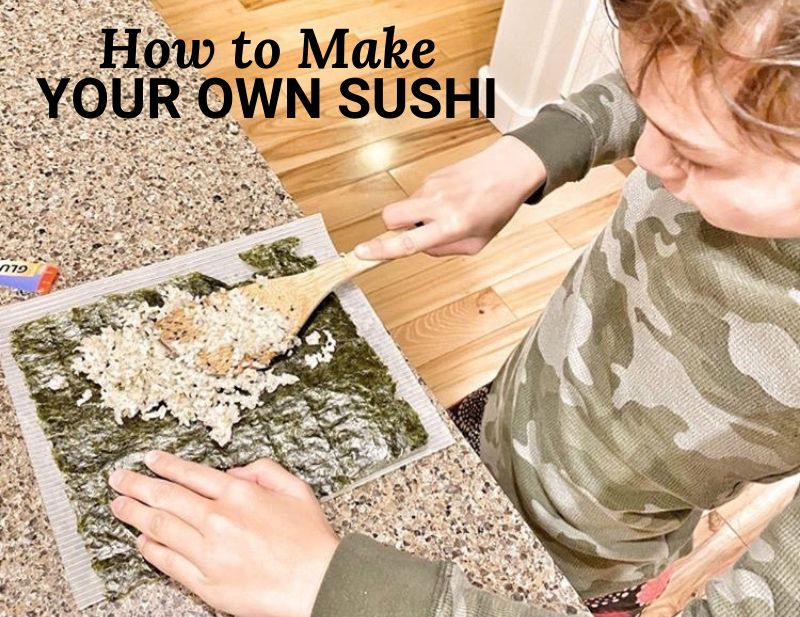 If you're looking for a fun family dinner, I'd highly recommend making sushi!
We enjoy this meal at least once a week, and not only is it incredibly easy, a ton of fun and freaking delicious, but we let our kids make their own rolls, which they love.
Here are a couple of things to note…
We use Organic White Sushi Rice, but I know that other people have made this using cauliflower rice to make it a grain-free version. Also, I highly recommend soaking your rice in advance so it's easier to digest.
We also use smoked salmon, but you could use any fish OR make it without the fish! Just make sure if you use fish, it's wild-caught and not farm-raised fish because they've been subjected to antibiotics and processed, unnatural feed, which usually contains pesticides. And if you're looking for some canned option, I love Wild Planet because their products are "pole-caught".

Have fun!! Skies the limit on what you can add. So, don't stress over doing it perfectly.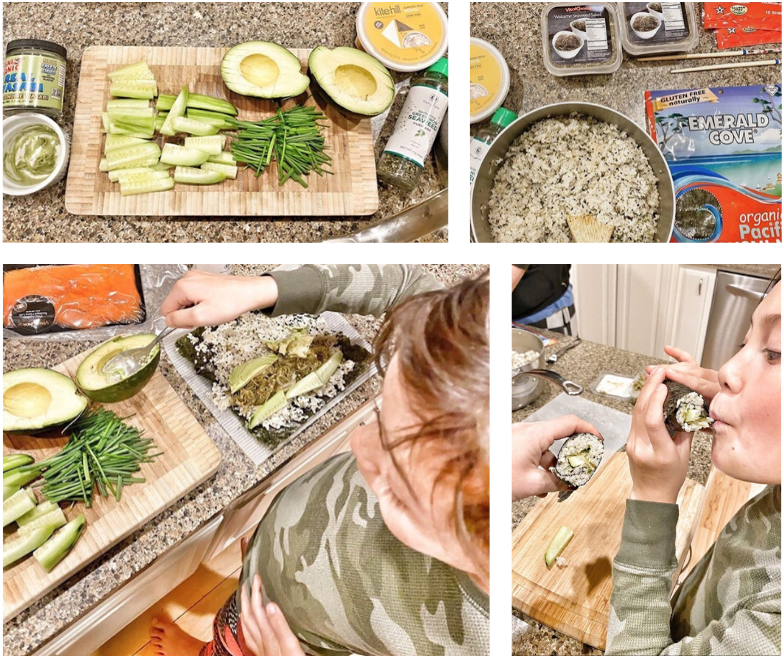 Print
Homemade Sushi
Ingredients
Organic White Sushi Rice (You could also try cauliflower rice for a grain-free version.)
Wakame Seaweed Salad (Picture #1) - This is from Vital Choice, and it ships frozen. It tastes amazing!
Sushi Sonic Real Wasabi (Picture #2)- This is freeze dried wasabi...you just add water. It's pretty good and super clean.
Green Nori Seaweed (Picture #3)- This is what we added to the sushi rice after we cooked it.
Kite Hill Almond Milk Ricotta (Picture #4)- We used this in place of cream cheese...and even my husband loves this stuff! We also use it in lasagna and on toast.
Wild Alaskan Sockeye Smoked Salmon (Picture #5)- This is from Vital Choice.
Cucumber
Chives
Avocado
Red Peppers, optional
Instructions
Prepare rice using package directions. After cooked, mix Green Nori Seaweed with rice.
Cut cucumbers, chives, avocado and red peppers.
Assemble sushi with your choice of ingredients. I recommend adding the rice onto the sheet of seaweed first and building from there. When finished, tightly roll the seaweed and then into bite-sized slices.
---
Please Note: This post contains affiliate links. If you make a purchase using these links, there's no additional charge to you, and I will receive a small commission from the company. This helps to cover the basic costs of this website and allows me to continue providing you with free content. Thanks so much for your support!