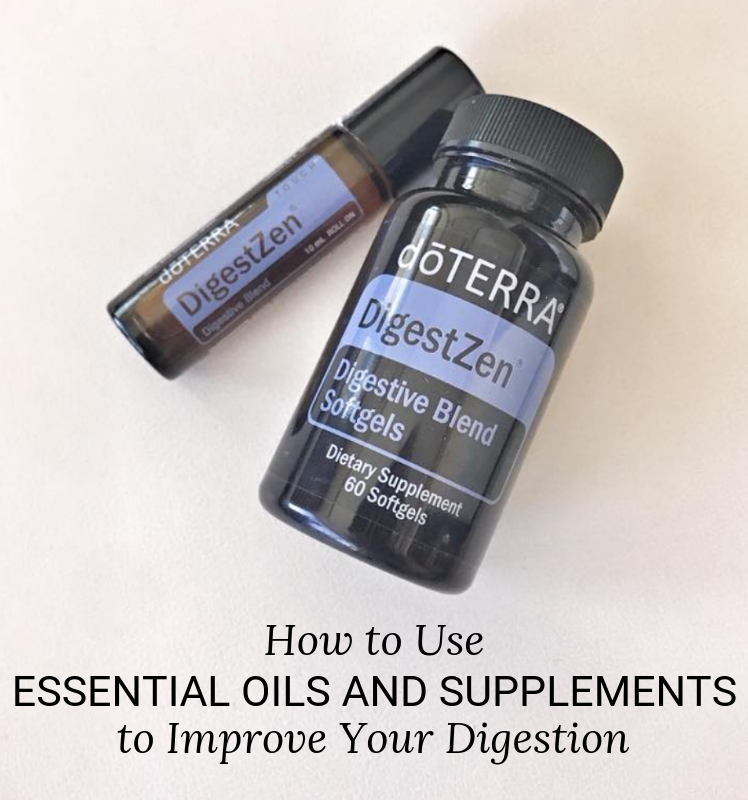 Do you struggle with digestion and gut issues?
I don't think I've ever been more thankful for an essential oil, then when tummy troubles hit our house. DigestZen Essential Oil has made such a huge difference for our family because it works so incredibly fast…and by fast, I mean, my son can wake up with a bellyache, put 2 drops of DigestZen Essential Oil over his belly button with a tiny bit of coconut oil and literally be up and running around within 5 minutes.
So, first, how is it possible that an essential oil could work so quickly?
Essential oils are the aromatic compound of a plant, and they act as the plant's immune system. They're also far more concentrated than their dried counterpart. For example, one drop of Peppermint Essential Oil is equivalent to 25 cups of peppermint tea.
They pack a powerful punch!
When essential oils are applied directly to the area of concern (such as the tummy for digestion issues), it's immediately absorbed into the cells through the skin. I also encourage you to use a carrier oil when applying them topically because it helps the essential oil to be absorbed more effectively into the bloodstream and cells. Plus, it can help minimize any skin sensitivity reactions. My favorite is Fractionated Coconut Oil because it doesn't interfere with the aromatic properties of the essential oil.
Now, let's talk about digestion.
Regardless of the symptoms you're dealing with, the foundation of a healthy digestive system is to make sure that you have plenty of stomach acid, specifically Hydrochloric Acid (HCI). On the pH scale of 1-7, with 1 being pure acid and 7 being pure alkaline, your gut should be around 3.
In order for your stomach to break down food, absorb nutrients and kill pathogens, it must produce gastric juices, such as mucous, pepsin and Hydrochloric Acid (HCl). This is especially important because:
HCl is the first line of defense against pathogenic microorganisms.
You ingest microorganisms every day through food, drinks and even simply touching your hands to your mouth. Some of these are healthy and necessary. However, many can be very harmful, such as viruses, parasites, foodborne illnesses, etc. Without sufficient HCl, you become subject to these disease-ridden microorganisms.
HCl is necessary for the proper digestion and assimilation of proteins.
Proteins are the building blocks of cells, tissues, hormones and the brain! Undigested proteins open the door to weakened immunity, fatigue, depression, allergies, asthma, infertility and so much more!
HCl is necessary for the body to absorb minerals.
As an example, let's look at iron. Many of my clients suffered from anemia most of their adult life. They supplemented with iron, but their symptoms never improved. They continued to experience fatigue, constipation and many of the less than enjoyable side effects.
What they didn't know was that iron can't be broken down or absorbed in the body without stomach acid, specifically HCl and pepsin. So, even though they supplemented with iron all day long, it did no good because their digestion wasn't addressed first.
This is also true for calcium. Disease's like Osteoporosis are on the rise, and according to the CDC, 1 in 3 women in the US will suffer from Osteoporosis by the age of 50. However, I wonder how much of this problem is because their body doesn't have the proper stomach acid to break down and absorb the calcium needed.

So, what essential oils and supplements can you use to support any uncomfortable symptoms and improve your overall health?
First and foremost, if you're wanting to improve your digestion, I recommend that you:
Take a digestive enzyme.
My absolute favorite is doTERRA's TerraZyme. It's gentle enough to use with children 5 years of age and older, and it's therapeutic enough to help eliminate indigestion, pathogens, etc. in adults.
Take a good quality probiotic.
The gastrointestinal (GI) tract is one the largest, most complex and important organ systems in the body. Within nearly 25 feet, all the food you consume is absorbed and digested so that you can use its vital nutrients and then excrete the waste. The GI tract also plays an important role in your immune system properly functioning, and a healthy GI tract is vital for optimum health. The most powerful way to support your GI tract is by taking a probiotic.
My favorite probiotic is doTERRA's PB Assist+ or PB Assist Jr. for kids. The proprietary formula of pre-biotic fiber and probiotic microorganisms contained with PB Assist+ includes L. acidophilus, B. bifidus, B. longum, L. plantarum, and L. caseii. These promote a positive balance and variety of beneficial gut bacteria. Also, most probiotics on the market can't pass through stomach acid unharmed. However, PB Assist+ has a time-release, double-layer vegetable capsule that protects the probiotic cultures as they pass through the stomach so they can provide you with the digestive and immune support you need.

Next, here's a list of my favorite essential oils to support specific digestive concerns:
(To Use: Apply 1-2 drops of each essential oil directly onto the area of concern with some Fractionated Coconut Oil. Repeat as often as needed.)
If you don't already have a doTERRA Customer Account and are interested in ordering a Digestion Starter Kit, click this link.
Please Note: You're able to modify the "Digestion Starter Kit" by adding or removing any of the items. Also, after your purchase, you'll receive from me:
Access to a weekly zoom Q&A to ask all your questions

Invitation to our exclusive customer Telegram channel where we share daily tips

A 15ml bottle of Wild Orange

Free access to an online essential oils program that will teach you everything you need to know about how to use your new natural solutions

A special welcome care package (includes cheat sheets, protocols and a variety of samples)

Access to exclusive educational opportunities and live events
Once you've processed your order, send me an email with your order confirmation at info@seasonjohnson.com so I can send you your free gifts and get your wellness consultation scheduled.
Finally, do you have a story to share about how essential oils and supplements improved your digestion? I'd love to hear it in the comments below!
---
Please Note: This post contains affiliate links. If you make a purchase using these links, there's no additional charge to you, and I will receive a small commission from the company. This helps to cover the basic costs of this website and allows me to continue providing you with free content. Thanks so much for your support!