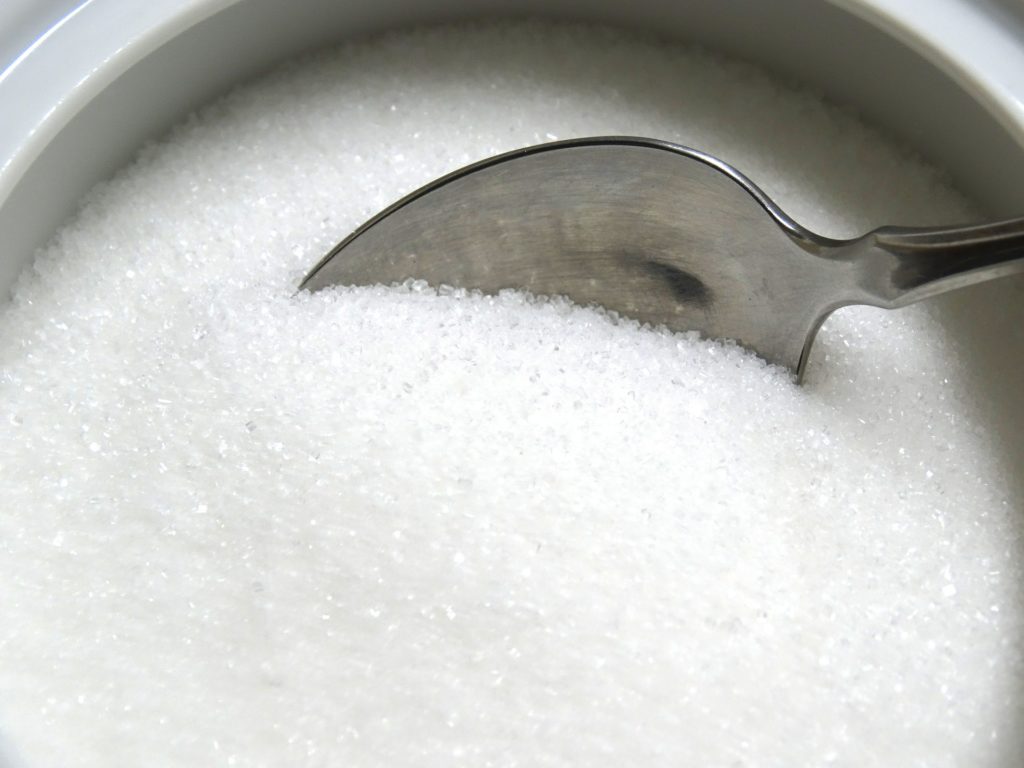 In 1821, the average person consumed 10 lbs. of sugar a year. By 2005, the average person was consuming 199 lbs.
Am I the only one who thinks that's insane?!
Don't get me wrong…not all sugar is bad. However, most of the sugar options available can be detrimental to your health.
So, let's talk about one of the most harmful sweeteners used in many of the products that we're consuming on a daily basis. In fact, this toxic ingredient is in over 80% of packaged foods.
High Fructose Corn Syrup (HFCS), aka, Corn Sugar!
Let's break it down…
Fructose
It comes from fruit, and because it's a naturally occurring fructose, it's ok to consume. Plus, the fruit packages the fructose with fiber, nutrients, minerals and vitamins.
Corn
Contrary to popular belief, corn is not a vegetable. Instead, it's a grain and highly indigestible. Plus, it's usually genetically modified.
Here's how High Fructose Corn Syrup is created…
The first step is to turn the genetically modified corn into corn starch.

Then, through a fairly complex and highly refined process, which includes vats of murky fermenting liquid, chemical tweaking and lots of fungus, the corn starch becomes a crystal-clear syrup that becomes about 55% – 65% fructose.
Here are some of the problems…
According to research, when fructose is unbound to glucose, it's very damaging to your health and is especially harmful for growing children.

Your body processes HFCS differently, which is one of the reasons it's far worse. In fact, the body absorbs the HFCS must faster and only the liver cells can process the fructose. Whereas, when you consume regular sugar, the sugar goes through your intestinal track and digestive system, and although it can still be harmful when consumed in excess, it shares the burden amongst multiple parts of the body.

Consumption of fructose triggers a fat production factory. This can lead to obesity, fatty liver disease, heart disease, high cholesterol, diabetes and ultimately liver failure. Did you know that sugar is the leading cause of liver failure?
So, in case you're still not convinced that you should avoid HFCS like the plague, here's a dirty little secret…
HFCS has been found to contain contaminants including mercury and other chemicals that are not regulated at all by the FDA.
I know…YIKES!!!
So…we are not only gaining weight, destroying our liver, clogging our arteries and losing brain cells, but now we're poisoning ourselves with dangerous heavy metals!
All this to say, why in THE WORLD is HFCS available for purchase and in products where kids are the target market?
Well, compared to regular sugar, it's cheaper, sweeter and much easier to transport because they can easily pipe it into the tanker trucks that you pass every time you are on the freeway.
I know, it's heart breaking!
So, here are some ways to avoid this toxic sweetener:
Read labels – look for both high fructose corn syrup or its new "code" label, corn sugar.

Be aware of these unlikely foods, as they often contain HFCS:

Bacon

Ketchup

Pickles

Salad dressings

Crackers

Juice

Bread

Canned foods

These probably won't surprise you, but just to officially put this out there…stay away from sodas, candy and candy bars. Most of them contain HFCS.
Now, for the good news…here are some healthy sweetener options that can actually even be beneficial for you:
They can all be easily used in baking and cooking and will give you a healthier satisfaction to your sweet tooth!
Please also note…Agave is NOT a healthy option. Contrary to popular belief, it's also highly refined. This and this article explains in more detail.
Final question for you…
Out of curiosity, which "unlikely" food product(s) that contains HFCS and that I listed above surprised you the most? I would love to hear in the comments below! Thanks.
---
Please Note: This post contains affiliate links. If you make a purchase using these links, there's no additional charge to you, and I will receive a small commission from the company. This helps to cover the basic costs of this website and allows me to continue providing you with free content. Thanks so much for your support!