Oh my…today's interview with Mark McAfee (aka. Papa Mark, as he's known in our family) left me feeling fired up, and I think you guys are going to love it!
Mark is the CEO and Founder of Raw Farm, the largest raw milk farm in the world. He's passionate about the immune system, and a tenacious and persistent student of raw milk. His wisdom and knowledge is endless! We talk about everything from his background, the power of gut diversity, what raw milk safety really means, inflammation, the relationship between cancer and bacteria, what to look for in a "clean" farm, and even sprinkle in some really powerful stories. This episode is packed and has the potential to be a real game-changer for you! 
Also, an important note…we did have a couple of very small glitches due to struggling internet during the interview. The nature of the interview wasn't compromised. However, I do ask for grace in a couple of places that got a little fuzzy! 🙂 Thanks! 
Links:
---
About Mark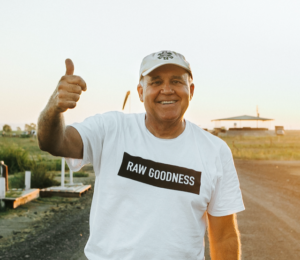 RAW FARM CEO, FOUNDER Mark McAfee is the founding visionary behind RAW FARM and can be referred to as "The Chief Excitement Officer".
Mark's focus is to help other raw milk dairies across the country and internationally through his new passion, Raw Milk Institute, which serves to build a healthier world where raw milk is safe, embraced, and accessible.
He has pioneered raw milk food safety standards and legal battles to keep the ball moving forward for the benefit of all: raw milk dairies across the world and consumers who long for easy access to clean, healthy raw milk products.
Podcast: Play in new window | Download