I feel really honored to introduce you to my friend, Courtney! She's one of my favorite people and we're actually going to talk about a really hard topic…grief.
Grief can be a really difficult conversation for many people, especially because learning how to navigate grief and tragedy is such an emotional process. And while Courtney hasn't navigated a cancer diagnosis, her oldest child passed away unexpectedly, and I know you'll find so much value and appreciation for her honesty and transparency. Plus, even though everyone's grieving process is so personal and unique, she gives some really practical suggestions and ideas to help you or your loved one navigate something so overwhelming and life-alternating.
I pray that this conversation is as life-giving to you as it was to me!
Links:
---
About Courtney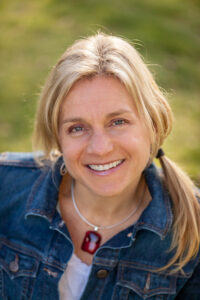 Courtney is a wife, mother, and a Life and Relationship Coach, previously a Health and Fitness Coach. She loves people! Her passion is to help people increase the quality of their lives by increasing the quality of their thoughts, emotions, relationships, and energy.
Along with her coaching business, she runs a small family non-profit (Samchasefund.com) in honor of her oldest son who passed away in 2020. Her husband and three other kids all lovingly help out in their own way. 
Courtney recently opened an online luxury gift shop: 27 Robins.  Twenty-Seven Robins began as a way to nurture fellow grievers with their signature grief gift box, The Wynter. They now have various boxes for many of life's big events and even smaller moments of self care. 
If she is not working, Courtney is probably running, working out, playing games with her family, resting, or researching vacations that may or may not happen. 🙂
Podcast: Play in new window | Download