In wanting to help you create a healthy home where people can rest and heal, we're going to continue a 3-part conversation with Brian Johnson, Synergy360, by focusing on how you can practically remediate your home to minimize your exposure to EMFs. So much of the information he shared was brand new to me too, and I think you're going to love all of the solutions and steps Brian provided to help us "dumb" down our smart homes to create healing environments. He also provided a lot of resources and links, so be sure to not only grab your pen and paper to take notes, but check out the show note links too. 
And one final note…this information isn't meant to scare you, but is intended to provide you with education and awareness. As I always say, when you know better, you have the opportunity to do better. So, let's both do better together, one step at a time!
*The Primally Pure link and coupon code have been updated since the recording. Please use: bit.ly/primallypurewithseason and the code: SEASONJOHNSON10 to enjoy 10% off!
**If interested in a free 30 minute consultation with Brian, reach out to him via his website, and be sure to reference this podcast episode.
***Be sure to listen to episodes 34 and 36. This whole series is a game change for your health, home and healing!
Links:
---
About Brian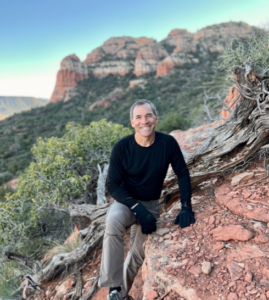 Brian Johnson
Founder, CEO | Senergy360
Brian Johnson is a Building Biologist accredited by the Building Biology Institute with over 20 years of experience as a General Contractor. Brian has a lifelong passion for health, athletic performance, and wellness. He is highly accomplished in the top Ironman and Xterra events, making the top 1% classification as an All-World Athlete. He has also coached athletes using science-based techniques to achieve high-level results. Brian is now on a mission to provide access (and the know-how) to the PROVEN Cutting-Edge Technologies & Systems for building holistic living structures.
In 2020, he built and designed the world's first Optimized Living Home in Tucson, Arizona. It is a model home that applies the best and newest science to create optimized living environments. And it serves as an educational model for other builders to adopt more sustainable solutions for their clients.
Tours are available by request. The home features the latest solutions in every aspect of the living environment to support optimal health and living. This one-of-a-kind home is equipped with cutting-edge systems and solutions for circadian lighting, EMF protection, 5G shielding, water purification, air quality, and mold-resistant materials. Every aspect of the home was sourced with the best quality, safest, and cleanest materials available.
Podcast: Play in new window | Download