If you've been around the podcast for a while, then you know there's been a lot of recent conversation about EMFs and cleaning up your home environment. I can't stress enough the importance of these conversations and your awareness of how toxic EMFs are to you and your health…and this episode will probably be the most eye-opening we've had so far!
I invited August Brice, Founder of Tech Wellness, to join me today, and not only is her personal story of Electromagnetic Sensitivity eye-opening, but her knowledge, her navigation of unchartered territory, and her practical tools inspired me. Plus, she set the record straight on how some of the tools and resources that I've been using and implementing for years are actually quite dangerous…and I WAS SHOCKED!!
I know I may say this often, but seriously…this is an episode you do not want to miss!!
Links:
---
About August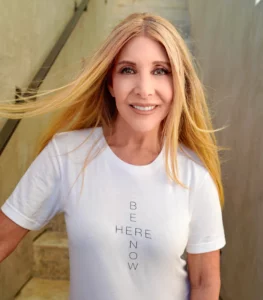 My Name is August Brice.
I'm a Tech Wellness Advocate. That means my passion is making sure that you have the information you need to thrive in a world brimming with tech. I want you to know: I love tech. I really do. However, my relationship with my digital devices and tech gadgets is guided by mindfulness…it's from that place, that I've founded TechWellness.com.
My Journey…
I began this tech wellness journey over 25 years ago when I developed something called Electromagnetic Sensitivity. ES led me to 25 years of research and discovery, unlocking the key to health and wellness, safety and security. The energy of a cell phone did not react well with my body, so I was able to watch as friends developed affection and dependence on their devices. That led me to pursue research on tech addiction and cyber-security issues with technology. The path culminated in a nice balanced ratio and respect for technology which we call the Tech Wellness Ways.
There is a detailed story of my healing journey. My Electro-Magnetic Sensitivity does not slow me down! In part because I lead a very healthy lifestyle. From the low VOC paint in my home, to my commitment to natural pest control, natural cleaners and low-EMF exposure, I've been able to remain productive. 
I ran a large agency with my partner and before that I was an award-winning broadcast journalist. Perhaps most importantly, I'm the mother of two beautiful young women in their twenties. My desire to see them healthy and thriving is what inspired me to dive into the world of research and solutions for all things wireless and digital.
Contact Information:
Podcast: Play in new window | Download