I'm so excited to introduce you to my new friend, Gary! About 6 years ago, he was diagnosed with stage 4 colorectal cancer and was told he only had 6 months to live. However, through a series of events, his making intentional choices to unlearn some generational "truths", and his desire to create health that would enable his body to build an army of cells, he's not only thriving, but he's changing the world around him while doing it!
Gary not only shares his incredible story, but our discussion around alkaline water was eye-opening, and I think you're going to love all that he shares about the endocannabinoid system and cannabis. I also think it could be a game-changing perspective for so many of us when he shares about his willingness to say that he was wrong and how he views the choices in his life as a lifestyle and not just a fad or trend! And finally, I felt so inspired by how he's so deeply committed to using his own story to offer hope to others…and I think after listening, you'll know exactly what I mean!
Links:
---
About Gary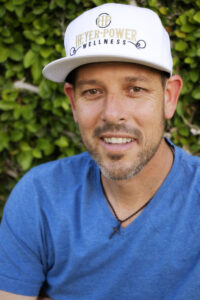 Gary Heyer has been on a mission to help 1,000,000 people live their healthiest life possible ever since saving his own seemed to be impossible. From Stage 4 Cancer and 6 months to live, to Cancer FREE and thriving 6 years later, Gary has built a wellness brand of Immunity Elixirs and CBD Oils that have been major weapons in his war, and is now helping so many others across the nation.
Gary has invested thousands of hours and dollars into research and mentorship and found that creating a strong alkaline environment in our body can help reverse damage or even disease. Not only has Gary mentored hundreds of other warriors in their own battles, the HeyerPower Lifestyle is now providing great energy and mental clarity along with better overall health to many different people like the successful entrepreneurs that are just too busy to be sluggish or even ill, or even active children and young adults trying to stay healthy. While the HeyerPower Lifestyle is for everyone,
Gary is committed to give back a portion of the proceeds generated by HeyerPower Wellness to the cancer community to help others fight their wars with cleaner fuel to feel better, and with financial assistance so they can focus on winning and has even started his non profit called The HeyerPower Foundation to raise money to reach that ONE MILLION cancer warriors and provide them with amazing products and mentorship at no charge to them.
Podcast: Play in new window | Download