I'm so excited to introduce you to Laura, she was not only the first person I reached out to invite to be a guest on this podcast, but I love that I get to personally work with her on an ongoing basis. Laura lost her brother to cancer, and it was that pivotal moment where she started to ask questions and lean into doing things more naturally. And now…she works with clients, particularly in the area of digestion and parasites. I think you're really going to love the insight, tips and education she brings today.
Here's a bit more of what you can expect to learn:
Laura's story, including the challenges of her brother's cancer and her own health journey experiences.
An in-depth understanding of the relationship between parasites and cancer.
The 1st thing Laura started to change when sticking her toes into all the holistic things.
The 2 pivotal questions she asked herself that helped her start making different choices and led her to go back to school.
Why most health issues stem from parasitic infections and the importance of having a healthy terrain in the body.
A specific list of where people are getting parasites, as well as what you can start doing right now to minimize your exposure.
A list of foods to cut out when dealing with parasites.
The importance of cutting out sugar.
A detailed discussion about antibiotics, how they work, what they do, how they can open yourself up to a parasitic infection, and the consequence of just a 3-4 day round of antibiotics.
The importance of supporting the liver.
3 action steps to start implementing today.
The importance of opening up the body's drainage pathways before focusing on the parasites.
A breakdown of "Feelings buried alive never die."
One thing that inspires Laura right now…and I was surprised to hear this inspiration again! 🙂
Links:
---
About Laura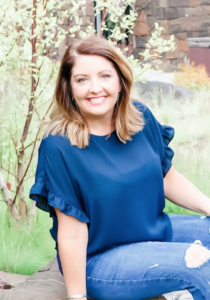 Laura Atterbury is a Functional Diagnostic Nutrition Practitioner  specializing in gluten disorders, blood chemistry analysis, gut health, parasite cleanses, hair mineral testing and essential oils.
Her life completely changed after losing her brother to cancer and facing her own health issues with no answers from conventional medicine.
She knew if she struggled this much to find answers, that other women were too. She vowed to help guide others on this confusing, messy journey looking for root causes and bringing holistic solutions. 
You can find Laura always researching and learning, spending time with her high school sweetheart turned husband and hanging with her daughter and new husband and her son. She loves minimalism and tiny house living (she would love to live in a tiny house someday) and loves spending time with her friends and family. 
You can find Laura on Instagram and Facebook at Imperfectly Whole Life. 
Podcast: Play in new window | Download