On today's podcast, I had the honor of interviewing Bethany, Founder of Primally Pure. Bethany and I met several years ago at a health conference, and not only have I loved getting to personally know her and her family, but I've loved watching the journey, birth, and incredible explosion of her beauty and skincare business. Her products are just as high quality as she is a person, and I know that you're going to love hearing the education and secrets she has to share about the skincare industry because what you use on your skin has just as much to do with your health as what you put in your body with food!
Here's a little taste of what you can expect to learn:
How her health journey with acne impacted her story and journey to creating a successful skincare business.

Some of the specific changes that led her to experiencing a huge shift in her health.

Her first product that actually started out as more of a hobby.

The relationship between gut health and your skin.

2 key dirty secrets in the beauty and skincare industry.

How companies use the word "fragrance" as a trade secret and what this blanket term really means.

The term on products that you should never trust…even though everyone tells you to!

Specific ingredients you should avoid in your skincare products that are causing cancer.

A discussion of why you might be wasting your time with all of the healthy eating if you're still using toxic products.

The first 3 products you should prioritize in finding non-toxic options.

Why it's important to sweat, and what happens when you switch from conventional deodorant to natural deodorant.

My #1 challenge to YOU, the listener.

What Bethany is currently finding as a source of inspiration…and just know that I plan on buying it and enjoying soon! 🙂
Links:
---
About Bethany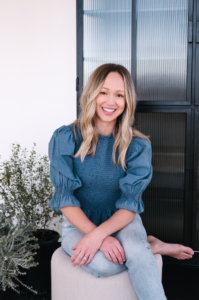 Bethany is the Founder of Primally Pure and lives in Southern California with her husband, two daughters, and baby boy on the way. Having used all sorts of harsh prescription creams and pills to treat her acne as a teenager and young adult (and dealing with red, raw, irritated skin as a result), Bethany was blown away by the effects she eventually experienced after ditching the harsh chemicals and replacing them with simple + natural ingredients. Bethany's journey inspired her to start Primally Pure (with an initial $250 order for ingredients + supplies) to help others experience the benefits of using clean products. In addition to spending time at the PP Workshop and Spa envisioning new product ideas, Bethany is passionate about all things clean living, faith, biohacking and parenting. She loves sharing the knowledge she has gained with others – as well as taking regular getaways with her family to reset + refresh. 
Podcast: Play in new window | Download