Ah!!!! This episode, you guys…my conversation with Jenny inspired me so much!!
Jenny was actually the first person I interviewed for this podcast, and even though we've been friends for a while, listening to her share her story and how she's a cancer "thriver", not a "fighter", has me on the edge of my seat to get this into your hands. She lives out of a space of grace, and the truth bombs that she drops throughout this entire interview are incredible!
Here's a little taste of what you expect to hear:
Her journey of being misdiagnosed for two years.
The importance of why every cancer case is different and not all cancer needs to be fast tracked.
The narrative she uses to wrap around herself, especially as she is living with cancer.
Her experiences with cryoablation and the impact it has on tumors.
The protocol she was recommended by doctors and how this led to her having to navigate the difficult conversations, especially in regards to fertility and family planning.
Her regular check-in's with "Not a 'no' forever, but not a 'yes' today."
How being her own advocate and asking questions were a muscle that she had to build.
The encouragement of taking the layer of fear off of the "onion skin".
Specific foods that help to metabolize estrogen and support hormones.
The importance of detoxing, supporting the liver, and a specific therapy that's ideal if you're estrogen dominant.
The importance of reading ingredient labels and knowing the other names of sugar.
Why it's ok to feel the emotions! Specific action steps she takes when she experiences the "low" spots.
Her experiences and journey with God after receiving a cancer diagnosis.
The protocol she's implementing today to thrive.
What's currently inspiring her…and the YouTube videos that you just might love too. 🙂
Links:
---
About Jenny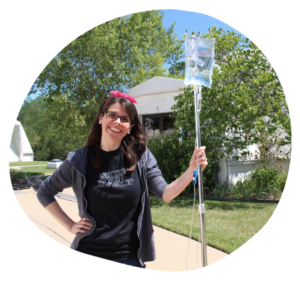 With three academic degrees and 20+ years experience in student ministry and education, Jenny Bradley is skilled at finding research to learn all she can on the topics she's passionate about and teaches. After being diagnosed with cancer in 2017, her aptitude for learning crossed over into acquiring information that equips her to make confident decisions on her cancer journey. Through gathering perspectives from her medical team, including allopathic and naturopathic care, Jenny has been thriving with her cancer
diagnosis for over five years. Throughout this time, she often gets asked for tips and resources for other cancer patients and their friends who are looking to support their loved ones during a health crisis. So, she continued her education to become a Certified Culinary Nutrition Expert and a Certified Cancer Coach. Jenny is inspired to share her insights and tools in order to help others on shrinkthemutantschool.com and on Instagram @shrinkthemutant. Jenny lives in the central USA with her husband Mike and cute little dog Poppy.
Podcast: Play in new window | Download