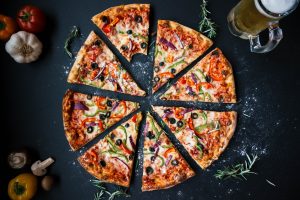 How would you like a very quick and easy homemade pizza recipe?! In fact, there are 2 great things about this recipe…other than the incredible taste:
This pizza is nutrient dense, full of healthy protein and fat and completely devoid of grains and sugar.

It takes only 20 minutes to make, not including the baking time. So, any busy momma or full-time working super woman has the time to make it.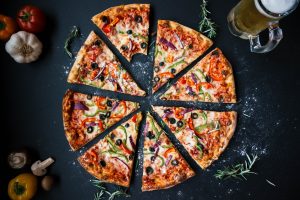 Print
Protein Pizza
Yield 2 medium pizzas
Ingredients
Almond Flour Crust
Pizza Sauce
Toppings
1 onion, thinly sliced
1 cup kalamata olives (pitted and sliced in half)
1 lb crimini mushrooms, thinly sliced
1 cup fresh basil, finely chopped
2 cups fresh spinach
1 cup mozzarella, grated
1 cup raw cheese, grated
Instructions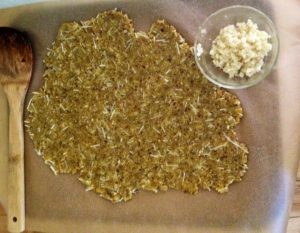 Almond Flour Crust
Preheat oven to 350° F.
In large bowl, mix together flour, herbs and salt.
In small bowl, whisk together eggs, cheese and olive oil
Add egg mixture to dry ingredients. Stir to combine.
Collect dough together into a ball.
Place a piece of parchment paper on counter and put dough in center. Place another sheet of parchment over and roll dough out to desired thickness.
Remove top sheet of parchment paper and move parchment paper with dough onto a baking sheet.
Bake crust for 15 minutes or until lightly golden.
Pizza Sauce
Combine all ingredients in a blend to combine well. Spread with a pastry brush onto the pre-cooked pizza dough.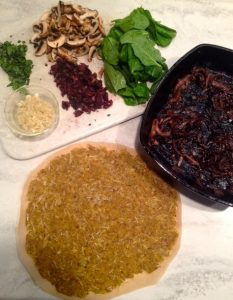 Toppings
Melt 2 TBSP organic cultured butter in skillet. Add onions.
Add 1 tsp raw honey and continue cooking slowly until brown and caramelized, approximately 15 minutes.
Sprinkle mozzarella on dough. Add desired toppings.
Top with raw cheddar.
Put back in the oven until cheese is melted, approximately 10 minutes.
Notes
For those who have a smoker/grill, such as a Traeger, throw the pizza on the grill at 400° F for 10 minutes. It gives it the most wonderful flavor!
---
Please Note: This post contains affiliate links. If you make a purchase using these links, there's no additional charge to you, and I will receive a small commission from the company. This helps to cover the basic costs of this website and allows me to continue providing you with free content. Thanks so much for your support!