(If you missed the first 2 phases to successfully transition to a whole foods diet, click here for Phase 1, and click here for Phase 2.)
Congratulations!! If you've been following along with my steps on how to successfully transition to a whole foods diet, then you've made it two-thirds of the way through, and you're now on the home stretch!
Most likely, you're feeling better than ever, and I want you to take a second to acknowledge all of your hard work and your commitment! I know it's not easy, but YOU'RE DOING IT!!
Way to go!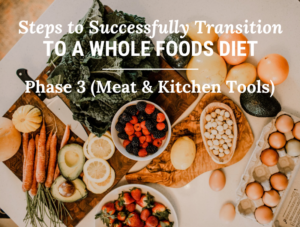 As I shared in week 1, you don't have to be a part of the current trend of rising degenerative diseases in the Western world, and so regardless of the reason why you started this journey or how many bumps in the road you've hit so far, I'm so proud of you for making this choice for you and your family!
Don't stop! Keep pressing on!
Your health and the health of your loved ones is worth it!
Also, don't forget that if you have questions or stories to share, I'd love to hear them in the comments below. So, please share! 🙂
Finally, I want to remind you again that this is a journey…it's not an event. So, when you finish these last 2 weeks/months, then go back to Phase 1 again…fine tune your diet, focus on the more challenging areas, remind yourself of what's important, etc.
I'm continually re-evaluating and learning, and I want to encourage you to do the same!
Ok, let's finish strong. So, here's Phase 3…

Week/Month Five: Meat
1. Eliminate commercial meats.
2. Replace commercial meat with small quantities of quality meat.
This includes meat from

pasture-fed, hormone, drug, and pesticide free animals. Also, look for cage free poultry and eggs.

Americans tend to have a higher intake of omega-6 fatty acids in their diet, which isn't great. Animals raised in a natural environment eating the foods they were intended to eat (i.e. fresh grass for cows and lambs, bugs and worms for chickens, etc.) have an ideal omega-6 to omega-3 ratio of 1:1. Whereas, the commercial chicken yolk ratio is often as high as 19:1, and the commercial beef ratio is 6:1.
3. Only purchase fresh, wild fish, preferably from deep, clean, cold waters.
Avoid or minimize eating farm-raised fish that have been subjected to antibiotics and processed, unnatural feed, which usually contains pesticides.

Limit consumption of swordfish, tuna, shark, tilefish and King mackerel to no more than one serving of any per week. These fish tend to have higher levels of mercury than any other fish. For example, one serving of tuna would constitute your suggested total weekly diet intake of any of these fish. I also don't recommend consuming fish caught off of the coasts of large cities because the waters surrounding them have higher levels of pollutants.
4. Introduce fermented and cultured foods,
Some examples include: true fermented sauerkraut or other veggies, miso, nama shoyu (raw fermented soy sauce) and whole milk yogurts.

For recipes, see Nourishing Traditions by Sally Fallon and The Body Ecology Diet by Donna Gates.

Week/Month 6: Kitchen Tools
1. Eliminate the use of the microwave oven.
Research indicates that the microwave:

May have unfavorable effects on proteins and fats, making them difficult to assimilate.

Causes changes in vitamin content and availability.

Causes abnormal blood profiles, similar to those that occur during the early stages of cancer, when microwaved food is eaten.

Alters amino acids in microwaved milk, which can be toxic to the liver and nervous system, especially for infants and young children.

I recommend to always avoid the use of a microwave. If you have a microwave in your kitchen that's not built into your conventional oven, remove it and create a bookshelf in its place, adding a display of your new favorite real food cookbooks!
2. Replace aluminum cookware with stainless steel cookware.
There are many good brands on the market, and my favorite is All-Clad.  Another excellent choice is Le Creuset, which is constructed of cast iron coated with porcelain enamel.
3. Implement a whole house dechlorinating water system along with a high quality reverse osmosis system for your drinking water.
I recommend the PerforMax for removing chlorine, chloramines and other chemicals from the entire house.

I recommend 2PureH2O for the reverse osmosis system. It consists of 16 different stages, and it purifies the water utilizing sediment and carbon block filter, reverse osmosis, deionization, ultraviolet light and a post carbon filter. It also removes fluoride from the city water, and the UV light performs bacteria and virus disinfection, eliminating such harmful bacteria as e-Coli, and parasitic cysts that are found in drinking water. Finally, this system also reprograms the water adding minerals back into the water because commonly, minerals are lost during reverse osmosis.

If the expense of buying a whole house dechlorinator is not in your budget at this time, consider renting a system from Rayne Soft Water.

At the very least, purchase a chlorine filter for the shower. This type of filter is part of a showerhead that simply replaces your existing showerhead.
4. Add a vegetable juicer to your wish list.
5. Replace plastic storage containers with glass containers for leftovers.
Final Thoughts
You've got this, my friend!
You just walked through 6 steps on how to transition into a whole foods diet, and I'm so honored that I was able to lock arms with you during this season. Thank you for trusting me!
And remember, my support doesn't end here. So, if you have any additional questions, go ahead and post them in the comments below. I'll be happy to help.
---
Please Note: This post contains affiliate links. If you make a purchase using these links, there's no additional charge to you, and I will receive a small commission from the company. This helps to cover the basic costs of this website and allows me to continue providing you with free content. Thanks so much for your support!