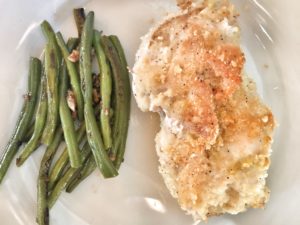 Stuffed Chicken Breast
Ingredients
Instructions
Rinse chicken and pat dry. Then, pound each breast out flat, about 1⁄4 inches thick. 

Preheat oven to 375 F. Then, melt 2 tbsp ghee over medium-high heat and sauté the onions and 
mushrooms for 8-10 minutes until soft Remove from heat. 
Melt remaining 2 tbsp of ghee over medium heat and add crushed garlic. Sauté lightly. 

Place 2 large basil leaves on top of the flat chicken breast. Then, layer with onions and mushrooms. 

Roll up breast to close. Be careful to keep filling inside and secure with a toothpick. 

Repeat with all the breasts and place in an oven safe dish.
Pour garlic/ghee sauce over the breast and bake for 40 minutes. 
Recipe by Season Johnson at https://www.seasonjohnson.com/stuffed-chicken-breast-with-green-beans/