Yarrow|Pom is one of doTERRA's newly released essential oils, and it has some incredibly powerful benefits, including:
Supports the immune system

Regulates inflammation in the body

Supports healthy hormones, skin and cardiovascular health
So, for last 3 months, I've been taking 3 drops in a veggie capsule every morning, as well as, applying it topically to my skin with my moisturizer every evening. Here's what I've noticed:
My age spots have disappeared.

I have a more even skin tone with a glow that I haven't seen in years.

My hormones are in check!!
But that's not all…
About a week before I being menstruating, I typically get a little moody and can be quick to anger. Plus, ever since having children, I have a heavy flow. However, after taking Yarrow|Pom consistently, my moodiness is almost TOTALLY GONE and my flow is so much lighter, which makes total sense because Yarrow|Pom has been found to reverse premature menopause!
So, what makes Yarrow|Pom Essential Oil so powerful?
It's the 3 main constituents that are in the plant that pack a powerful punch: Beta-caryophyllene, Punicic Acid and Chamazulene.
1. Beta-caryophyllene (BCP)
This particular constituent is so powerful because it can bind to our CB2 receptors and activate many of the benefits of our endocannabinoid system.
Hold on…I see you with your crinkled nose and blank stare. Let me break this down…
What is a CB2 receptor?
This is one of 2 receptors that serve distinct functions in our health and have some pretty incredible roles, including:
Inhibits the release of pro-inflammatory factors

Regulates lipid production and triggers unhealthy cell death

Stimulates the opioid receptor

Helps with Alzheimer and Parkinson's Disease
What's our endocannabinoid system, and why is it important?
This is the system in our body that impacts physiological processes affecting:
Pain modulation

Appetite

Inflammation response

Immune system response
2. Punicic Acid
Punicic Acid is a component found in the Pomegranate Seed Oil…it's the "Pom" to the "Yarrow." This particular constituent is powerful because it:
Promotes heart health

Acts as a natural aphrodisiac

Promotes flawless skin

Improves the immune system

Assists in weight loss because it supports a healthy metabolism                    
Also, Punicic Acid is a fatty acid, which is why it also helps with inflammation and can be quite successful to help manage pain.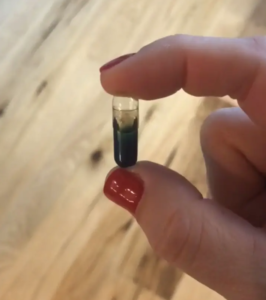 3. Chamazulene
Last, but not least is Chamazulene, which is why Yarrow|Pom is blue!
Chamazulene is actually a product of the distillation process and isn't existent in the plant prior to that. Cool, right?!
Some of the incredible benefits chamazulene brings to this powerhouse essential oil include:
Protects cells from stress caused by byproducts of normal cellular processes.

Manages the activity of molecules involved in a normal immune response.

Because Chamazulene contains a higher antioxidant value than both Vitamin C and E, it's incredibly beneficial for the skin and immune system.

Helps to eliminate free radicals in the body! (Free radicals are what can trigger disease and unhealthy cell proliferation. Thus, they need to be eliminated as soon as possible. Chamazulene helps protect the integrity of our immune system by getting rid of these unwanted molecules.)
As a whole…
This is an essential oil that I highly recommend that you have on hand and incorporate into your daily routine. In fact, I think doTERRA's Science Blog summarizes it best…
'Yarrow|Pom is an expertly crafted proprietary blend of Yarrow essential oil and cold-pressed Pomegranate seed oil designed to be your go-to for a true inside-out approach to aging, vitality, overall wellness, and, quite frankly, how to get that glow. This synergistic and first-of-its-kind blend naturally up-regulates the body's protective transcription factors while activating skin-protecting proteins (inhibiting the enzymes that breakdown elasticity and collagen) with the added benefit of promoting collagen production.
To help, here's some of their suggested uses:
Consume one to two drops morning and night to promote a healthy metabolism.

To promote a healthy immune response, take one to two drops of Yarrow|Pom daily.

As part of your skin care routine, apply Yarrow|Pom to help promote the look of young and healthy skin, or to help reduce the appearance of blemishes.

Apply Yarrow|Pom topically to any area of pain to quickly relieve discomfort.
So…have you started using Yarrow|Pom? If so, what benefits have you experienced? Leave a comment below.
Want to learn more?
If interested in learning more about essential oils, click here for a great place to start. If you would like to join my FREE online class, click here to sign up! And, if you're ready to buy now, click here.
---
Please Note: This post contains affiliate links. If you make a purchase using these links, there's no additional charge to you, and I will receive a small commission from the company. This helps to cover the basic costs of this website and allows me to continue providing you with free content. Thanks so much for your support!