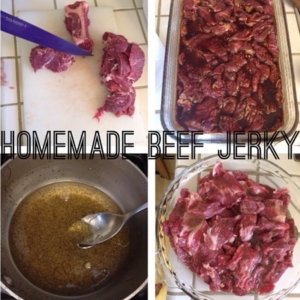 There is nothing quite like a batch of homemade beef jerky! Seriously, not only do I know what ingredients were used in the making of it, but it just tastes SO GOOD!
Jerky is perfect for road trips or for when we are on the go…and yes, there are other good alternatives like Paleo Valley and EPIC Bars. However, if you want a real treat, make this recipe for yourself.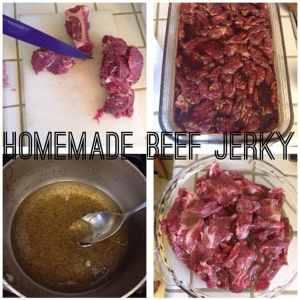 Print
Honey Pepper Beef Jerky
Ingredients
2 lbs grass-fed round top or any other inexpensive cut of grass-fed meat
1/2 cup raw honey
1 TBSP freshly ground black pepper
2 tsp garlic powder
Instructions
Ask your butcher to slice the roast for jerky meat (thinly sliced lengthwise)
Place meat in a large stainless steel or glass container with a lid.
Melt honey over low heat and add pepper and garlic powder. Mix well and pour over the meat.
Marinate in fridge for 6-24 hours.
Place in dehydrator and follow the jerky specific instructions for time and temperature. If you do not have a dehydrator, use the oven on the lowest setting and check every 30 minutes to ensure it is not overcooked.
Store in fridge.
Notes
If you don't have a dehydrator, no problem. You can still cook this recipe in your oven.

Another favorite recipe of ours is to make a batch using a Garlic Soy Marinade. It is a mixture of garlic and fermented soy sauce, Nama Shoyu.