When my family and I first started using essential oils, I had no idea that they did more than just help with symptoms from sickness. I had a basic knowledge of how they could support our immune system, but we mostly used them for headaches, tummy aches and the common cold.
However, a few years later and after a lot of research and a million bottles used…ok maybe that's a bit of an exaggeration…I can't even believe the power that these bottles have over our emotional, physical and spiritual well-being.
So, even though my morning essential oil routine continues to change and evolve as I do, I thought I would share what I use every morning to help support my vitality.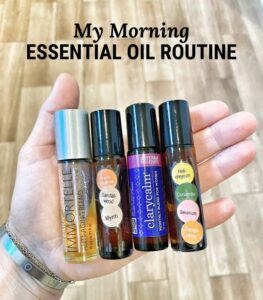 Here's the essential oils to begin my day:
1. Immortelle
First, I roll Immortelle on my clean face to help with anti-aging and get rid of dark circles, wrinkles and bags. Then, I roll it under my arms as deodorant because it is incredibly protective of cell function and supports healthy detoxification, which is particularly important for the lymph area near the bust!
A group of the most influential and successful people in the essential oil industry were once asked what oil they couldn't live without, and this group of both men and women ranging in age from 25-65 answered unanimously, "Immortelle!!" It isn't just a "beauty blend," but it is a combination of Frankincense, Sandalwood, Myrrh, Helichrysum, Lavender and Rose, which are the MOST powerful oils for supporting healthy cell growth and immune support.
Immortelle is the blend known for its miraculous anti-aging properties, supporting healthy cell function and supporting the removal of free radicals.
2. Clary Calm
Then, I roll Clary Calm on my lower abdomen to support healthy hormone function. This essential oil has reduced my PMS symptoms to almost NOTHING!
Clary Calm is the blend known to balance hormones, reduce symptoms of PMS and remove cramps. It also improves mood.
3. Detox Blend
Next, I use a special detox blend composed of the following essential oils to help support healthy detox function:
To make, add 15 drops of each essential oil and top it off with Fractionated Coconut Oil. To use, I apply 5 swipes topically over my liver.
4. Healthy Cell Blend
I then use a special cell support blend composted of the following essential oils to support healthy cell growth and help my body do away with the unhealthy cells:
To make, add 15 drops of each essential oil and top it off with Fractionated Coconut Oil. To use, I apply 5 swipes topically over my breasts and over my thyroid.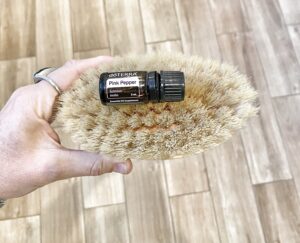 5. Pink Pepper
Finally, I dry brush every morning to help stimulate lymphatic detox and help support healthy hormone function. So, I add 3-4 drops of Pink Pepper Essential Oil to my dry brush and follow these steps.
(For an amazing dry brush, check out Primally Pure's Dry Brush, and use the coupon code "SEASONJOHNSON10" for 10% off.)
One last tip…
I personally find it best to use essential oils not just reactively but proactively. It is when I do this that I find better support and more consistent results!
Are you ready to get started with essential oils?
It's so easy to start with a doTERRA Customer Account, and you'll receive: 
25% – 55% off all of doTERRA products for an entire year.

A convenient, easy-to-use website to order whenever you want and have your product delivered directly to your doorstep.

No minimum or maximum order requirements.

Shop as often or infrequent as you'd like.

You never have to sell anything…it's only an optional benefit, if you choose.
Plus, I'll personally give you:
Access to a weekly Q&A Zoom to ask all of your questions 

A bottle of Wild Orange essential oil

Free access to an online essential oil program teaching you everything you need to know about using natural solutions

Access to a private and active Telegram channel with daily education

Access to exclusive educational opportunities and live events
To get started with all of the same oils I use every single morning, here are your next steps:
Click this link. I've created a custom kit just for you, but please feel free to add or remove any items to personalize it to your needs.

Enter your information and follow the remaining prompts.

When finished, email me a copy of your confirmation receipt to info@seasonjohnson.com so I can be sure to send you some goodies and get you access to all of my free educational resources!
---
Please Note: This post contains affiliate links. If you make a purchase using these links, there's no additional charge to you, and I will receive a small commission from the company. This helps to cover the basic costs of this website and allows me to continue providing you with free content. Thanks so much for your support!