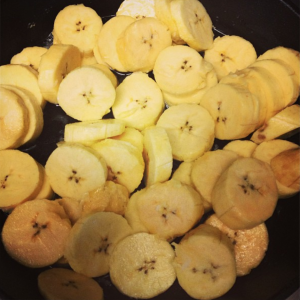 Plantain Chips are the perfect Paleo salty snack! We love to…
dip them in salsa and guacamole

top them with cheese and salami

cover them in almond butter or goose liver pâté

eat them like nachos

and enjoy them plain and simple on road trips
I do recognize that there are some great options for purchasing them, like at Thrive Market, but I also love to make them myself.
Here's my favorite recipe…Enjoy!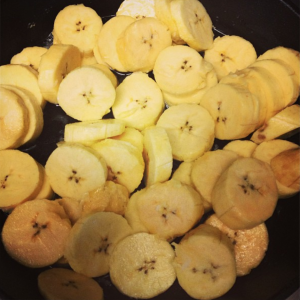 Print
Plantain Chips
Ingredients
3 ripe plantains (they are ripe when they look really beat up and are black.)
1/4 cup coconut oil
sea salt to taste
Instructions
Leave the peel on the plantain. Then, cut off the ends and slice lengthwise as thin as possible.  Leaving the peel on will help to prevent smashing the plantain.
Then, carefully remove the peel and place the sliced plantains into a skillet of hot coconut oil.
Fry for about 2 minutes on each side. Use tongs to flip, and be careful to not burn.
Sprinkle with sea salt.
---
Please Note: This post contains affiliate links. If you make a purchase using these links, there's no additional charge to you, and I will receive a small commission from the company. This helps to cover the basic costs of this website and allows me to continue providing you with free content. Thanks so much for your support!