It's so important to UNtox your home and environment, and I think you're going to really appreciate all that today's guest, Allison Evans, Branch Basics Co-Founder, has to share about why it's critical and how you can get started! Not only is Allison's personal health story a powerful one, but because Allison knows that little changes do really add up, we discuss some really cost efficient suggestions that will make a big impact. 
From replacing all of your toxic cleaning products to a couple of natural solutions to clean water solutions that fit your budget to user-friendly app suggestions to mitigating EMFs in your home…we discuss it all and so much more! When you remove the toxic stressors around you, your body has the ability to run to the power of healing, and this episode will bring a new level of awareness to that truth!
Links:
About Allison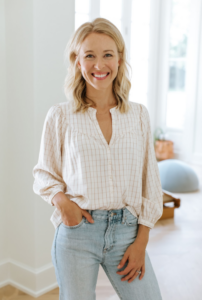 Allison Evans is a co-founder of Branch Basics and lives in Texas. After experiencing a health crisis during her junior year of college and traveling to specialists across the country to seek relief from chronic pain and motor impairments, Allison finally experienced true healing after moving to the Hill Country to live with her aunt, Marilee Nelson. By removing all toxic chemicals from her environment and eating real, whole foods, Allison's symptoms completely disappeared. Her healing journey inspired her to co-found Branch Basics to help others experience how to truly thrive in their health. In 2020, Allison was diagnosed with chronic Lyme disease, activated by mold in her home. This spurred her family's move to the country, where combined with clean eating and a supplement program, Allison has experienced tremendous healing from her once-debilitating symptoms. Allison enjoys researching all things natural pregnancy, birth and parenting; finding clean brands to use and recommend; and helping others navigate their health journeys. But most of all, she's a mom! Allison loves nothing more than raising her three baby girls, Sloane, Frances and Eleanor, who inspire her daily in her efforts to live a clean lifestyle.
Podcast: Play in new window | Download