This week's guest post is very special to me for two reasons.
First, Nathan helped to shape both my relationship and my husband's relationship with Jesus while we were walking through cancer with our son. As you can imagine, we had so many questions, doubts, frustrations and a lot of anger. Our faith had been shaken! Yet, there were so many times while attending the Stirring for church that we felt Jesus had given Nate the EXACT message we needed to hear. It was as if Jesus was talking directly to us.
Then, fast forward a few years and after getting the privilege of knowing Nate as a friend, I was able to offer Nate some health advice while he was in the midst of his own health challenge. I also connected him to my mentor and second mom, Kim Schuette, and I promised Nate that hiring her as his nutritionist would be an incredible part of his healing journey.
The rest is history! And honestly, I still can't read his story without the uncontrollable tears falling down my face. However, I pray that this blesses you as much as it has me and that you'll remember…
…the healing is IN THE JOURNEY!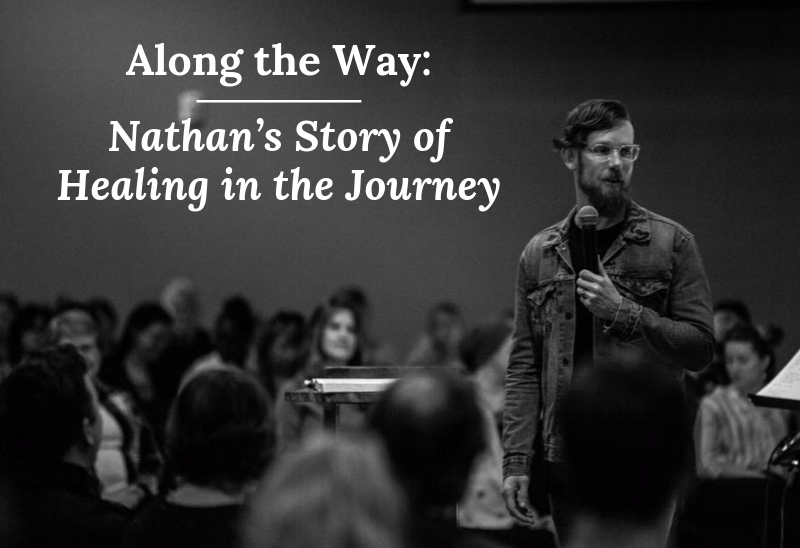 It took me four months to admit to myself, and to others, that something was wrong. That I was sick. It was three years ago, and I remember that day clearly.
I met up with some friends on a Sunday for Mexican food. As we talked, ate chips and salsa, and shot the breeze, I sensed an unusual pressing and presence of God. Some have called it, a "thin place." I've always believed, if you need real breakthrough in your life, eat Mexican food.
This particular moment carried with it a timely invitation for my soul, beckoning me to get vulnerable, to let my walls down, to invite others in. I've realized, there's a profound difference between 'getting something out' and 'letting someone in,' both of which are vital in the healing process. I knew I was sick but had no words to express it. Yet for the first time, I was able to admit out loud, "I'm not ok," and more so, "I need people."
And so it began, my healing journey, over chips and salsa.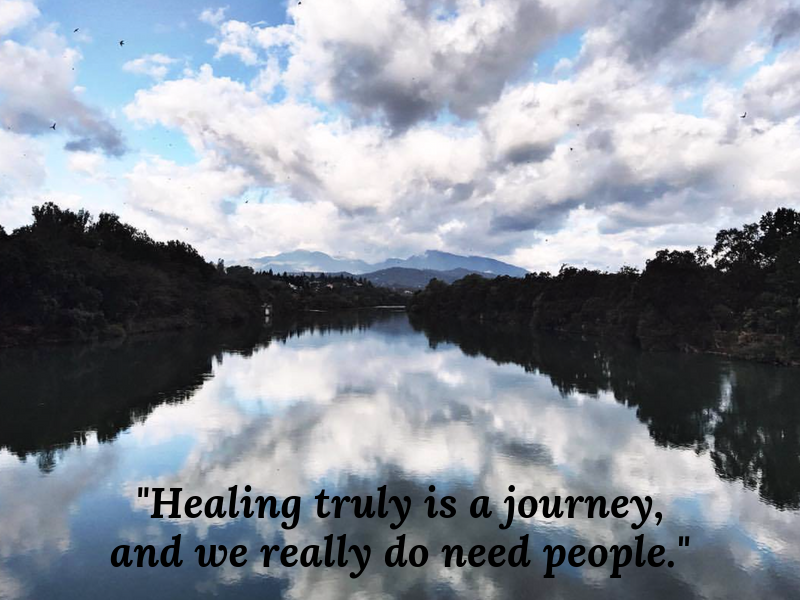 Soon after, I learned my adrenals had collapsed.
I was experiencing waves of brain fog, weariness, mild depression, shortness of breath, low energy, fatigue, anxiety, to some degree almost every day.
Getting out of bed in the morning had become a brutal task. Making decisions, thinking straight, almost impossible. Life was somewhat normal on the outside, yet inside, a very different reality.
I found it difficult to have meaningful conversations, let alone to string thoughts together, which is kind of what I do for a living. I caught myself avoiding people and oftentimes, hiding out in my office for hours on end. For those who don't know me, my office is my least favorite place.
Small tasks and everyday chores now taking enormous energy, some days worse than others. Being present, as if it wasn't already a daunting task in, now an exhausting complexity.
In my thirty-nine years on the planet, I had never experienced anything like this.
One day Season introduced me to her practitioner friend, Kim, from San Diego.
I had been sick for over a year and was willing to try anything.
Our first conversation was over Skype. We talked about life, rest, diet, family, sleep cycles, triggers, and pretty much everything surrounding my adrenal crash. From our first conversation, my wife Erica and I knew I was in good hands. Moreover, we sensed God's presence. Even better.
During my follow up consultation, Kim interrupted me with a question. "Nathan, can I share a word with you?"
I replied, "Sure," a bit taken off guard, yet curious.
She said, "I saw this picture of you walking with Jesus, just as He walked with His first disciples, along the way. For those disciples, what mattered wasn't where they had come from or where they were going, but rather, that they were together, with Jesus."
She went on to color this prophetic picture, "Imagine the talks, the tears, the laughs, and the healing they must have experienced along the way, as they walked together down those roads. Not hurrying to the next place, but enjoying the present moment."
She paused for a second and then spoke with humble confidence, "Nathan, I believe your healing will come like this, 'along the way,' as you walk, as you rest, and enjoy the company of friends, and Jesus."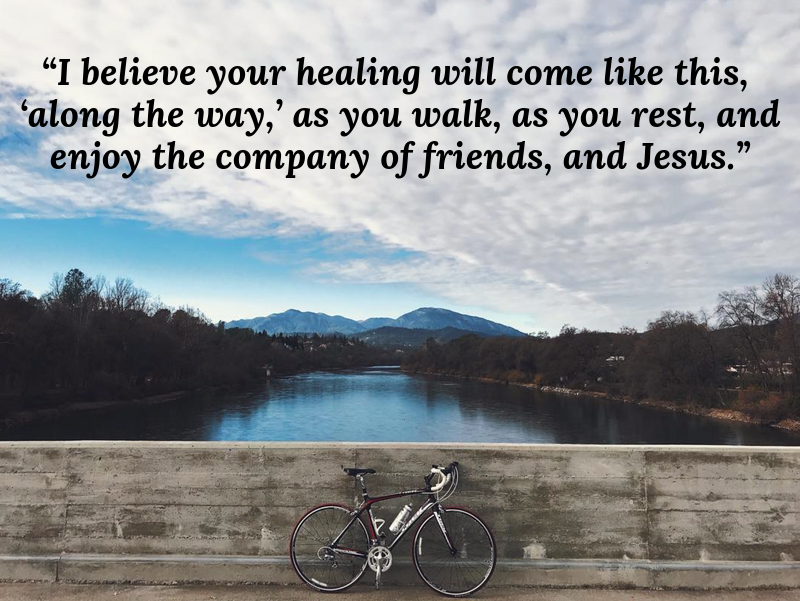 Her words pierced my hurried heart.
I knew it was the Lord. The unrivaled pressing and presence of God. Once again, a "thin place." That phrase struck me, 'Along the way.' Friends and Jesus, talks and tears, chips and salsa, along the way.
My walls lowered just a bit more.
Kim and I never spoke again, as days later she was terminally diagnosed with stage four cancer, and died within months. A brief, timely and unexpected friendship. A deep soul calling me deeper. Such a gift.
Her honest words an invitation, calling me to embrace the healing that comes not from trying more, but trusting more. To lay down the false gods of arrival and accomplishment, to become more and more present to what God is doing, here and now. All the while, enjoying the presence of Jesus and the unexpected gift He brings, as Kim does now every day.
Healing truly is a journey, and we really do need people.
---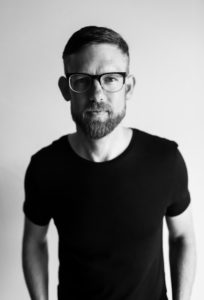 Nathan Edwardson is the founder of the Stirring, a Venue, Coffee House, Co Lab, and faith community in Redding, California. A creative visionary, he integrates his love of music, story and film with his passion for shaping influencers who will shape the world. Along with his wife Erica, they dream of families whole, cities awakened, and the world drenched in its creative potential in the most redemptive and impactful ways possible. They enjoy life with their four beautiful children.