Our family LOVES Mexican food…like, it's our most favorite food group!
However, most Mexican food is loaded with genetically modified corn, which wreaks havoc on your health. Plus, the sauces are usually loaded with sugar and sodium.
So, I recreated a traditional enchilada meal with this healthier version…hope you enjoy it as much as we do!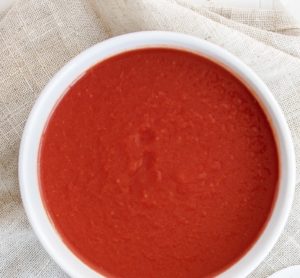 Print
Chicken Enchilada Casserole with Red Enchilada Sauce
This recipe is a family favorite! Because it makes for great leftovers and can be frozen for up to 6 months, I always double each batch.
Serves at least 6-8
Red Enchilada Sauce By: Nourishing Traditions Cookbook by Sally Fallon (WAPF)
Ingredients
Chicken Enchilada Casserole Ingredients:
Cooked meat from 2 whole chickens that was used to make chicken stock
2 medium onions, finely chopped
2-4 small green peppers, hot or mild, seeded and finely chopped
2 carrots, peeled and grated
1/2 teaspoon cayenne pepper
2 teaspoons oregano
1 tablespoon ground cumin
3 cups grated raw Monterey Jack Cheese
8 cups red enchilada sauce (recipe below)
sliced avocados, for garnish
creme fraiche or piima cream, for garnish
salsa, for garnish
Red Enchilada Sauce Ingredients:
4 ounces whole dried New Mexico or Ancho chilies or 1 pimento chili
½ cup extra virgin olive oil
1 medium onion, finely chopped
1 tsp. ground cumin
2 c. beef or chicken stock (I used chicken)
3 cloves garlic, peeled and chopped
2 small cans tomato paste
1 tablespoon red wine vinegar
Instructions
Chicken Enchilada Casserole Instructions:
Shred chicken and mix with onion, pepper, carrot, 2 cups of cheese and spices.
Combine all ingredients and place in an oiled Pyrex dish.
Cover with remaining sauce and cheese. (Can cover and freeze at this point.)
To serve, cover and heat in 325 degrees oven until steaming. Serve with avocados, cultured cream and salsa.
Red Enchilada Sauce Instructions:
Clean the dried chilies by removing the stem and seeds. Be sure to wear rubber gloves for this process and be careful not to touch any part of your face.
Meanwhile, sauté onion in olive oil. Add cumin and cook stirring constantly, until well amalgamated into the oil.
Add stock and chilies. Bring to a boil, skim and reduce heat to a simmer.
Whisk in garlic, vinegar, and tomato paste. Simmer covered for about 45 minutes.
Pass the sauce through a food mill (I used the food processor). 
Please Note: This sauce can be made in large batches and frozen, which is what I always do. I usually double or triple the recipe and freeze the remaining sauce. 
---
Please Note: This post contains affiliate links. If you make a purchase using these links, there's no additional charge to you, and I will receive a small commission from the company. This helps to cover the basic costs of this website and allows me to continue providing you with free content. Thanks so much for your support!