Today, I'm finishing up the last of the 3-part series on how you can naturally improve your focus and energy levels. 
In Part 1, I shared about the importance of nutrition as a solid foundation, and in Part 2, I focused on the best supplements you can use to help build and expand on that foundation.
So, let's put the cherry on the top of this series and focus on essential oils.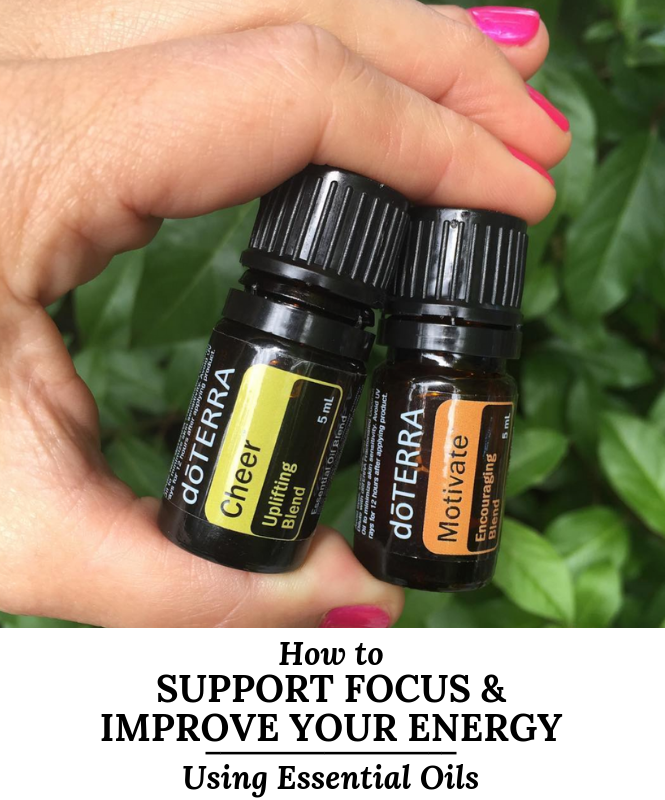 Now, you guys know I'm a passionate person. I love me some Jesus, my super hot husband, my sassy and rowdy kids, and an amazing grass-fed steak slathered in butter and served with a side of truffle fries.
But I also LOVE my essential oils!
When Kicker was diagnosed with cancer, I was willing to try anything  to help him. So, when someone introduced me to the world of essential oils, it set us on a path that I'll forever be thankful for. We used them successfully throughout his entire treatment and continue to use them today for just about everything.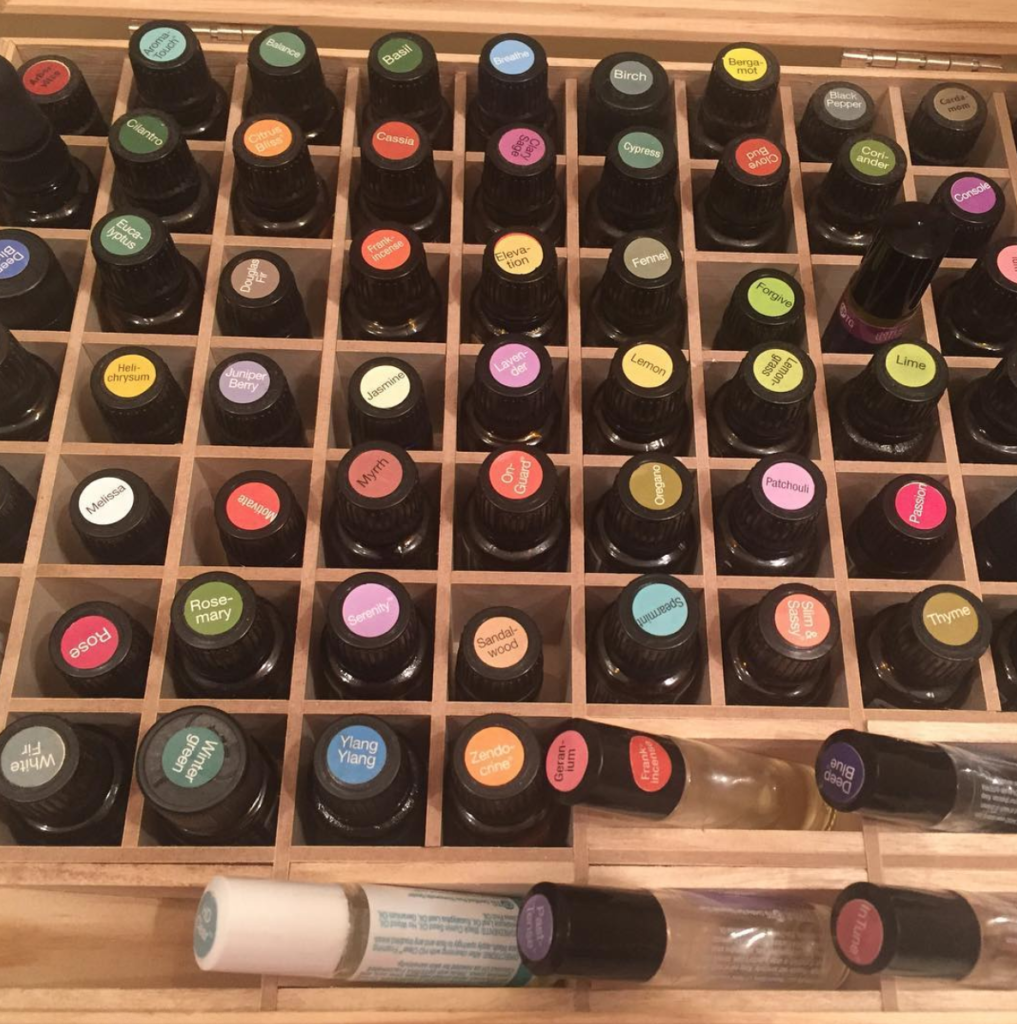 First, let me say this…essential oils will NOT cure or treat disease! However, they WILL:
Improve your ability to focus

Improve mental clarity

Reduce feelings of being overwhelmed

Improve energy

Provide oxygenation and supplementation to the cells in your body
Next, let's answer some of the most foundational essential oil questions…
What Are Essential Oils?
Essential oils are natural aromatic compounds derived from plants. Their God-given purpose is to protect and oxygenate the plant and keep it healthy. Much like your blood does for you, they carry oxygen, nutrients, trace minerals, vitamins, and more throughout the plant (and/or our body) to encourage vitality. They're also 50-70x more powerful than herbs…ie. 1 single drop of Peppermint Essential Oil is equivalent to 28 cups of peppermint tea!
How Do Essential Oils Work?
The molecules of essential oils are exceptionally small. Therefore, they're able to easily pass through cell membrane walls. Once they penetrate the cell, they carry nutrients and oxygen to boost health and vitality. 
As a result, they actively support your immune system and combat toxins, free radicals and viruses, and even though essential oils have grown in popularity in the last decade or so, their therapeutic benefits have been recognized since ancient times.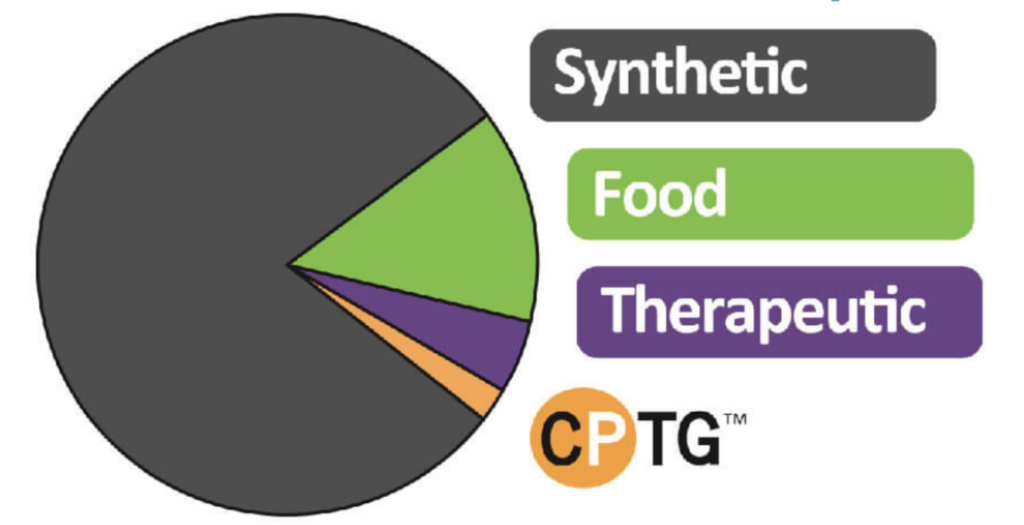 It's also really important to recognize that due to the dramatic growth of demand and interest in the essential oils industry, a large number of companies have joined in to make some money. And sadly, the vast majority of these companies are using synthetic oils which are UNSAFE!
So, please do NOT just grab any essential oil that you find in your local supermarket. 
Do your research! Be educated about what you're putting in/on your body! 
In fact, in the image below, you'll see that a very small percentage of essential oils are deemed "Certified Pure Tested Grade," which is the highest quality you can find…and is also the only kind of essential oil that doTERRA sells.
What Does Certified Pure Tested Grade Mean? 
CPTG means that each batch of oil is tested by outside companies, including APRC and Source to You, to verify that they are:
Beyond organic.

Free of pesticides and contaminants.

Created from plant material sourced from native origins.

3

rd

party tested for purity and potency.
Now, let's discuss the 3 ways you can use essential oils:
1. Aromatically
I know it may sound strange, but YES, just smelling an essential oil will help you! Here's how:
When odor molecules enter your nose, they bind to receptor cells in your olfactory membrane.

Olfactory receptor cells become activated and send electrical signals via axons into higher regions of the brain.

The electrical signals are also sent to the limbic system, which is largely responsible for your memories, emotions, and stimulation. 

The limbic system houses the hypothalamus whose main function is to keep the body in a healthy, balanced state. 

The hypothalamus is crucial to your wellness because it does everything from regulate body temperature, digestion, emotions, hunger and thirst to keeping your sleep cycles, sex drive, blood pressure, and bodily fluids balanced.
All this to say, this is exactly how/why a certain scent can trigger a memory or an emotion you felt a long time ago. And it's also the reason that a particular scent can activate certain process within your body systems by affecting the area of your brain that's responsible for it.
2. Topically
As I previously mentioned, essential oils easily penetrate your cell membranes. So, when an oil is applied to the skin, it reaches your blood in under 3 minutes, and within 20 minutes, it's affected every single cell in your body!
Crazy, right!?
Essential oils can be applied directly to the area of the body that you desire to support, or to the feet, hands, and/or ears on reflex points.
You can also apply them neat (without dilution) or diluted with an organic oil of your choice. I prefer Fractionated Coconut Oil. 
3. Internally
SOME oils can be used internally for therapeutic benefit…but NOT all. It's extremely important that you follow some guidelines:
ONLY use Certified Pure Tested Grade Essential Oils…ie. doTERRA  

ONLY use the oils with a "Supplement Facts" section on the label. Those marked "Supplement" are safe to be taken internally, and those marked "Ingredients" are only for topical and aromatic use.
How Many Essential Oil Drops Are Best?
Use the chart below as a guide on how you can use safely use them.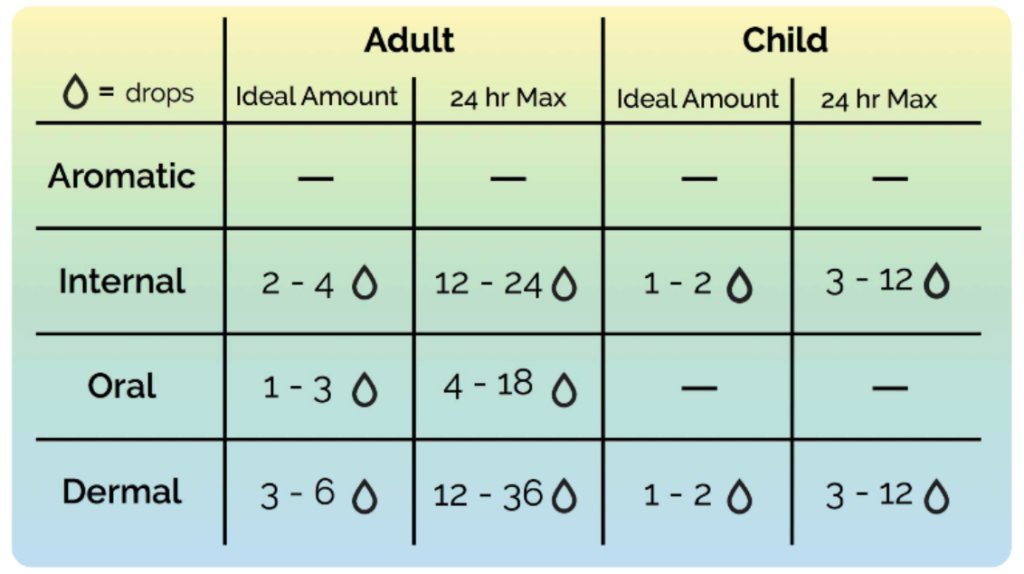 Finally, here are my favorite essential oils and blends for supporting your focus and improving your energy :
(Click here to get a handy reference sheet detailing the benefits of the oils outlined below!)
Promotes feelings of confidence, courage, and belief

Counteracts negative emotions of doubt, pessimism, and cynicism
Promotes a clear mind

Detoxes negative feelings
Increases oxygen

Improves energy and focus

Regenerates cells
Supports healthy cell function

Keeps your mind alert and focused

Uplifting to mood
Reduces tension and fatigue

Counteracts negative emotions of frustration and feelings of stagnancy
Enhances and sustains a sense of focus

Supports efforts of those who have difficulty paying attention and staying on task

Study-time blend
Promotes feelings of confidence, courage and belief

Improves energy and focus

Supports healthy cell function
Helps prevent mental distraction

Instills a sense of alertness and focus

Helps reduce feelings of mental stress

9. My Favorite Energy Blend
10. My Favorite Focus Blend
So, are you ready?
Do you want to start using Certified Pure Tested Grade Essential Oils to help you feel better?
It's so easy to start with a doTERRA Customer Account, and you'll receive: 
25% – 55% off all of doTERRA products for an entire year.

A convenient, easy-to-use website to order whenever you want and have your product delivered directly to your doorstep.

No minimum or maximum order requirements.

Shop as often or infrequent as you'd like.

You never have to sell anything…it's only an optional benefit, if you choose.
Plus, I'll personally give you:
Access to a weekly Q&A Zoom to ask all of your questions 

A bottle of Wild Orange essential oil

Free access to an online essential oil program teaching you everything you need to know about using natural solutions

Access to a private and active Telegram channel with daily education

Access to exclusive educational opportunities and live events
To get started, here are your next steps:
Click here to choose an enrollment kit.

I recommend the "Home Essentials Kit". However, you can also choose to start by paying the $35 wholesale membership fee and then choosing your own selection of oils. Just know that this fee is waived when you purchase an enrollment kit.

Enter your information and follow the remaining prompts.

When finished, shoot me an email with your order confirmation at

info@seasonjohnson.com

so I can send you your free gifts and get you access to all of the free education.
Which essential oils have made a difference in supporting your energy and focus? I'd love to hear them in the comments below.
---
Please Note: This post contains affiliate links. If you make a purchase using these links, there's no additional charge to you, and I will receive a small commission from the company. This helps to cover the basic costs of this website and allows me to continue providing you with free content. Thanks so much for your support!