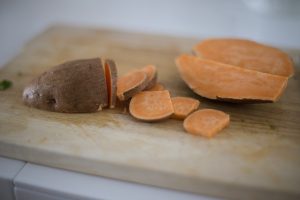 Sweet Potato Chips are one of our favorite side dishes, and personally, I love how incredibly easy this recipe is to make!
I usually keep it pretty simple when it comes to seasoning them, but if you find a combination that you love, please share…I'm always looking for new ideas!
Enjoy!
Print
Sweet Potato Chips
Instructions
Preheat oven to 450F.
Lay sweet potatoes on baking dish. Brush with butter/coconut oil and sprinkle with sea salt, pepper and garlic powder.
Bake for 25-30 minutes, turning over half way through the cooking time.
Please Note: If you find that the chips are not quite crispy enough, then increase the amount of butter/coconut oil and fry them on the stove top in an iron skillet.
Notes
To have less clean up, lay the sweet potatoes flat on a baking sheet lined with parchment paper.
---
Please Note: This post contains affiliate links. If you make a purchase using these links, there's no additional charge to you, and I will receive a small commission from the company. This helps to cover the basic costs of this website and allows me to continue providing you with free content. Thanks so much for your support!