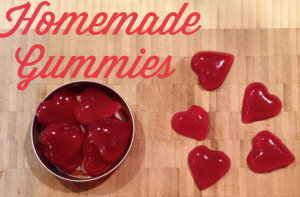 Homemade gummy candies are a wonderful immune boosting treat for kids, particularly because they are made with grass-fed beef gelatin.
Gelatin is an incredible nutrient to help support healthy gut and healthy brain function, and because 85% of our immune system is located in the gut, this is especially important!
These gummies are incredibly easy to make and can be flavored to your liking. Also, store them in the refrigerator to help preserve the freshness.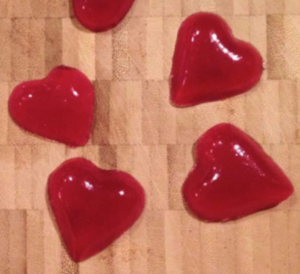 Print
Gummy Candies
Ingredients
4 TBSP grass-fed beef gelatin 
3 TBSP raw honey
1/2 cup organic fresh squeezed lemon juice (if you prefer them to be less sour, use less lemon juice.)
1/2 cup fresh organic berries, blended (we prefer raspberries or strawberries.)
Instructions
Mix all ingredients in small sauce pan over low heat until melted and smooth.
Pour into candy mold. (this is a great one.)
Freeze for 10 minutes.
Store in the refrigerator to keep fresh for up to 3 weeks.