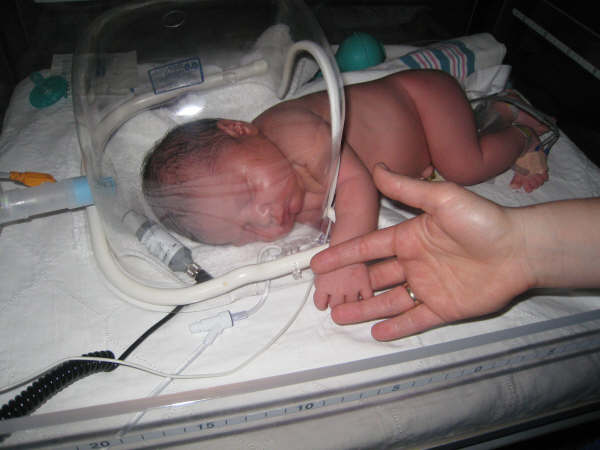 Today, commercial baby formula is none other than toxic!
And because the first five years of a child's life are the most important to the future of their health, do you really want to begin a child's life with this:
I mean…what the HELL are those words?!
Well, those are the ingredients of Similac Sensitive Powdered Formula for infants. Similac is the number one commercial baby formula brand that US hospitals use…and this absolutely sickens me.
I actually don't get fired up about too many things, but the health of an infant/toddler…ohhhh! Seriously, picture a kung-fu-fighter on crack that has the munchies and finds out someone stole their Doritos!
Yes…that is ME when it comes to the health of babies.
Studies have even shown that infants who are fed formula in the first year of life have a significantly higher level of Advanced Glycation End Products (AGES). AGES are sugar molecules that attach to and damage proteins in the body, and according to Dr. Mercola,
"Not only do they build up in your body over time, leading to oxidation and speeding up the aging process, but they also lead to inflammation, which in turn is linked to a number of chronic diseases, including diabetes and heart disease."
But, here's the good news…this is completely preventable! Even if a person is unable to breastfeed, there is a nutrient-dense and healthy option for your precious baby!
When my husband and I found out we were adopting my sweet baby girl, I didn't know too much about the importance of nutrition and health at that point. However, I was blessed with a sister and a mentor/friend who educated me on the dietary needs of a developing brain and body.
You see…my daughter, Selah, was born with compromised health.
And as any parent would feel, I wanted to do whatever it took to ensure that she was healthy, strong and vibrant. So, despite what our doctors told us and unpopular among every other parent I knew at the time, I said "NO" to commercial baby formula and put her on a homemade, raw milk formula instead.
At her 6-week appointment, doctors were absolutely blown away at her health and developmental progress, and by her 6 month appointment, the pediatrician who delivered her said, "Season, her health is nothing but a miracle."
Today, she is a very healthy, vibrant and intelligent child. In fact, she never went back to the doctor for another well-baby check up, and she has only had a few fevers and illnesses in her life, which have all been fought on her own, using natural remedies.
Selah's health is truly a miracle, and her life is a blessing that we give God the glory for!
We are so grateful to have been able to feed our baby this incredible homemade formula from her fourth day of life until she was 20 months old.
So here it is…the below recipe is a milk-based formula.
When compared to cow's milk, this recipe takes into account the fact that human milk is richer in whey, lactose, vitamin C, niacin and long-chain polyunsaturated fatty acids but also leaner in casein, which is milk protein. The addition of gelatin to cow's milk formula will also make it more digestible for the infant. And, it is important to only use true expeller-expressed oils in any formula recipes. Otherwise, it may lack vitamin E.
Also, please know that the ideal milk for any baby that is unable to breastfeed, is clean, whole raw milk from old-fashioned cows, certified free of disease and that feed on green pastures. For sources of good quality milk, visit this site or contact a local chapter of the Weston A. Price Foundation.
However, if the only choice available is commercial milk, choose whole milk, preferably organic and non-homogenized. Then, culture it with a piima or kefir culture to restore enzymes. You can find this available from G.E.M. Cultures.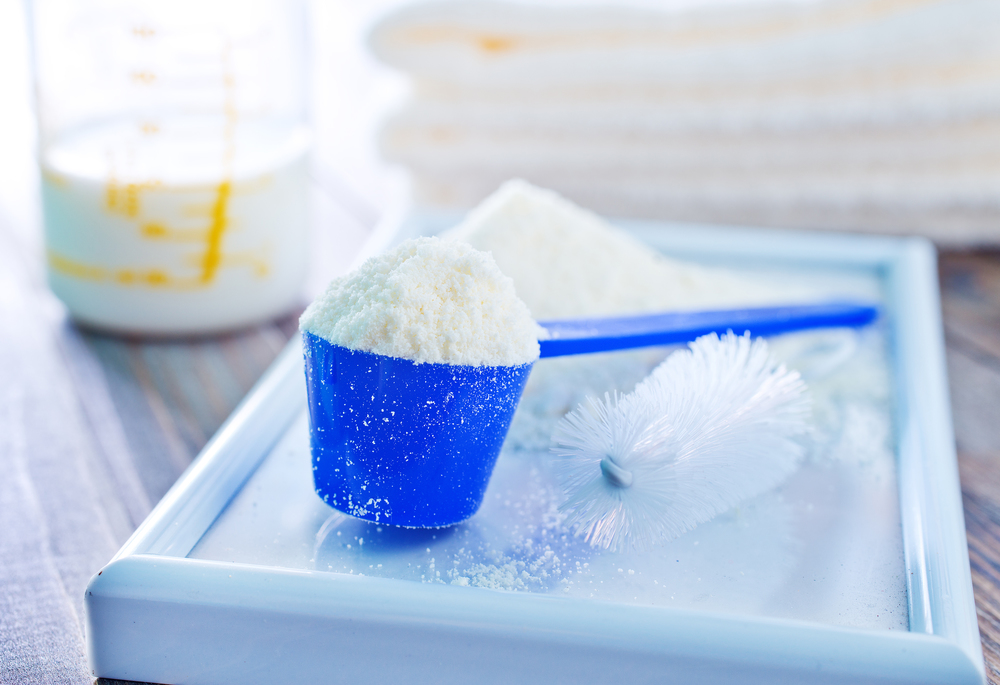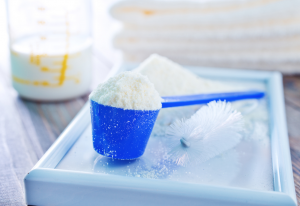 Print
Raw Baby Milk Formula
Yield 36 ounces
Recipe by: Sally Fallon, WAPF
Instructions
Pour 2 cups filtered water into a pyrex measuring pitcher and remove 2 tablespoons. This will give you the needed 1-7/8 cups of water.
Pour about half of the water into a pan and place over a medium flame.
Add the gelatin, lactose and coconut oil to the pan and let dissolve, stirring occasionally.
When the gelatin, lactose and coconut oil are dissolved, remove from heat and add the remaining water to cool the mixture.
Meanwhile, place remaining ingredients into a blender - no particular order is necessary.
Add the water mixture and blend for about ten seconds or until throughly combined.
Place in glass bottles or a glass jar and refrigerate.
Before giving to baby, warm bottles by placing in hot water or a bottle warmer. NEVER warm bottles in a microwave oven.
A batch of homemade formula will last for about 3-4 days in the fridge.
Notes
If you are still unsure about using raw milk, read THIS!
You can order the entire kit through Radiant Life Company, with exception of the milk, cream and whey.
Helpful Hints:

When I buy raw cream, I measure out 2 tablespoons, pour it into individual baby food containers and freeze. This will allow the cream to last much longer, and you will only need to pull out a prepared frozen serving on the days a new batch of formula is made. Plus, this will save you money and ensure that the cream doesn't expire before you have the chance to use it all!
You can freeze this formula for up to 6 months. Simply thaw it out in the refrigerator and heat up in a bottle warmer on the stove top. Once defrosted, the formula will be a chunky consistency. However, do not worry. This is due to the cream and oils binding together during the freezing process. Once heated, it will return to its smooth texture.
This travel insulated carrier is great for keeping the bottles cool when on the go.
When switching an infant or toddler to this formula, there may be a change in stool patterns and consistency. This is simply a sign that their little bodies are adjusting to the nutrients and ridding the body of any toxins.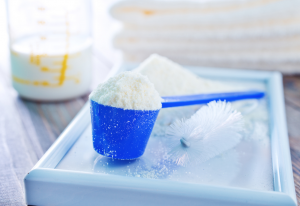 Print
Whey
Ingredients
2 32oz cartons of organic whole milk plain yogurt
Large Stock Pot with lid
Instructions
Line the strainer with cheese cloth and place over a large stock pot.
Pour all contents of both yogurt containers into the strainer.
Cover strainer and pot. Let sit at room temperature for 24 hours.
After 24 hours, pour the whey into a glass jar and keep refrigerated in a tightly sealed glass jar or container.
The whey should keep for up to 6 months.
Please Note: Depending on how much your baby is eating, this recipe will make enough for 2 months worth of whey.
Notes
For more information on REAL (RAW) MILK, click here.
If your baby cannot tolerate any milk based formulas, click here.
To learn about the importance of avoiding any Soy Milk based commercial baby formula, click here
---
Please Note: This post contains affiliate links. If you make a purchase using these links, there's no additional charge to you, and I will receive a small commission from the company. This helps to cover the basic costs of this website and allows me to continue providing you with free content. Thanks so much for your support!