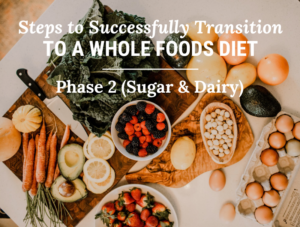 So, how's it going as you transition you and your family away from the typical American, refined foods diet to a traditional whole foods diet?
What have been some of your struggles, questions or successes so far? I'd love to hear, so please share in the comments section below!
And if you missed reading about "Phase 1" and where I recommend starting to "transition" to a whole foods diet, then be sure to go back and read the first post here.
Also, remember that you want to make a true life-long impact on your health. So, the goal is to think of this "transition" as a process…not a short lived event!
Now, let's continue on with the next 2 steps for Phase 2…
Week/Month 3: Sugar
1. Eliminate processed sugar from your diet.
This includes: refined white, brown, turbinado ("raw"), corn syrup, high fructose corn syrup, fructose and concentrated fruit juice.

Read your labels because these chemically processed substances are in everything!
2. Only use clean, natural forms of sugar.
For example: raw honey, organic non-formaldehyde grade B maple syrup, organic stevia, maple sugar, date sugar, blackstrap molasses, malted grain syrups (barley and brown rice), sorghum syrup, sucanat, naturally sweetened jams (i.e. Bionaturae, Cascadian Farms).
3. When baking, gradually reduce the amount of sugar called for in a recipe.
For example, if a recipe calls for 1 cup of sugar, use 3/4 cup sucanat or maple syrup instead.
4. Use fresh seasonal, organic fruits as a replacement for high carbohydrate snacks.
Try apples or bananas with almond or cashew butter, and occasionally, use organic dried fruits as a snack.
5. Eliminate pasteurized bottled fruit juices.
Either use freshly squeezed lemons, limes or oranges or certified therapeutic grade essential oils with your water.

To wean children off of fruit juices, dilute them with water.

Enjoy fresh fruit juices only as an occasional treat and make sure they are organic.

Week/Month 4: Dairy
1. Eliminate pasteurized, fat-reduced dairy products.
2. For those who can tolerate dairy, replace with organic raw, whole fat dairy products.
Most individuals who are lactose intolerant will still do well with raw butter and raw cream because these foods don't contain lactose. However, these individuals should avoid all other forms of dairy. You can read more about this here.

All dairy products, as well as grains, should be avoided during times of illness.

If you're concerned about the safety of raw milk, here's an article that will help.
Here's a website to find real milk in your local area.
3. Introduce freshly made nut and seed milks.
4. Eliminate sources of MSG (monosodium glutamate).
For example: hydrolyzed protein, calcium caseinate, sodium caseinate, textured protein, "seasonings," "flavorings" or "natural flavorings." These are all neurotoxins.

Read labels!
Final Thoughts…
It starts with breakfast, my friends! Here's how:
For your morning beverage of choice, replace the processed creamer and/or sweetener with some raw cream, raw honey and/or pure maple syrup.

Then, eliminate all forms of sugar from your breakfast meal. Our very favorite breakfast is organic eggs cooked in butter with a side of avocado and micro greens.
And please…share your progress in the comments below! We would LOVE to hear about your challenges and your wins!
Also, don't forget to come back for next week's post. I'll cover the final 2 steps on how you can make your transition to whole foods and healthy nutrition!
---
Please Note: This post contains affiliate links. If you make a purchase using these links, there's no additional charge to you, and I will receive a small commission from the company. This helps to cover the basic costs of this website and allows me to continue providing you with free content. Thanks so much for your support!