I remember that cold day in October as if it was yesterday.
It was around noon, none of us had eaten or drank anything and we anxiously waited for one of Kicker's many lumbar punctures. He would be put under anesthesia while chemotherapy would be injected into his spine.
When it came time for Kicker to go back, I carried him into the surgery room where we were greeted by a couple of nurses. While getting settled, one of the nurses asked if I would take a moment to sign a consent form. It would allow them to give Kicker the flu shot because "he will already be under anesthesia, so this will make it painless for him."  
I immediately responded with a hard, "No" and made sure she knew I was very clear that I did not want him to receive the flu shot.
But can I be really transparent with you?
In the two seconds after my, "No," I became increasingly nervous.
Even with all of my education, was I making the right decision? What if he did get the flu and ended up back in the hospital in worse condition? Or what if the flu shot could have actually helped? What if, what if, what if…
And then, I had to remind myself of the truth that I share with so many others…we can only do the best we can with what we have, and at the end of the day, we must feel a peace about our decisions. I reminded myself…and Josh…of all of the research I had done to encourage our confidence and peace about this decision.
I share this with you because I want you to know you are not alone in your questions and concerns! In fact, let's directly discuss one of the most common questions I receive about the flu shot:
"He had cancer which means his immune system is compromised. So, if he were to come down with the flu virus, that could have been dangerous, right?
Yes, it is true that cancer patients do have a compromised immune system. However, that is primarily due to the number of synthetic and toxic drugs they receive. For example, the chemotherapy weakens the Absolute Neutrophil Count, and this makes the patient more susceptible to the flu virus, along with other illnesses.
In my opinion, it seems irresponsible to give a cancer patient another dose of toxic chemicals that will further contribute to weakening their immune system. Plus, the effectiveness with this specific vaccine is so low that it seems to be more of a risk than a reward.
Check out these facts and statistics…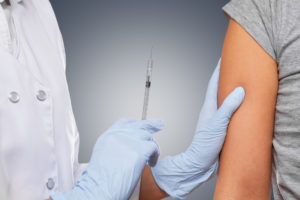 Here's the toxic ingredients found in the flu shot:
Aluminum gels or salts of aluminum which are added as adjuvants to help the vaccine stimulate a better response. Adjuvants help promote an earlier, more potent response, and more persistent immune response to the vaccine.
Antibiotics which are added to some vaccines to prevent the growth of germs (bacteria) during production and storage of the vaccine. No vaccine produced in the United States contains penicillin.
Egg protein is found in yellow fever and most influenza vaccines, which are prepared using chicken eggs. Ordinarily, persons who are able to eat eggs or egg products safely can receive these vaccines.
Formaldehyde is used to inactivate bacterial products for toxoid vaccines, (these are vaccines that use an inactive bacterial toxin to produce immunity.) It is also used to kill unwanted viruses and bacteria that might contaminate the vaccine during production. Most formaldehyde is removed from the vaccine before it is packaged.
Monosodium glutamate (MSG) and 2-Phenoxyethanol which are used as stabilizers in a few vaccines to help the vaccine remain unchanged when the vaccine is exposed to heat, light, acidity, or humidity.
Thimerosal is a mercury-containing preservative that is added to vials of vaccine that contain more than one dose to prevent contamination and growth of potentially harmful bacteria.
Here's the effectiveness rates in the past 16 years: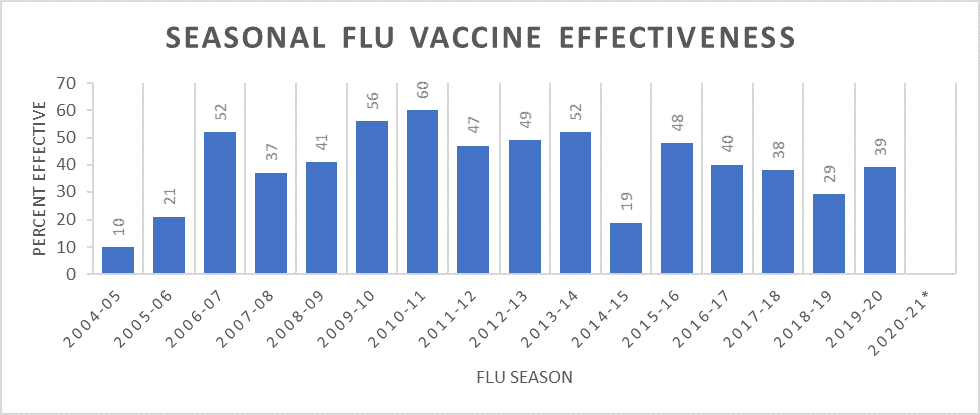 According to the CDC, here's the list of some of the most common side effects from the flu shot:
Soreness, redness, and/or swelling from the shot

Headache

Fever

Nausea

Muscle aches

Fainting
Here's the list of some of the less common but very concerning side effects:
Difficulty breathing

Guillain-Barre Syndrome 

Hoarseness or wheezing

Swelling around the eyes or lips

Hives

Paleness

Weakness
So…with these facts and stats, I'm not sure the flu vaccine is worth the risk.
In fact, rather than giving a cancer patient a "preventive" dose of chemicals that haven't proven to be very effective for many years, let's build up their immune system in a natural and sustainable way so that they can avoid and/or fight off viruses.
Just because I advise against getting the flu shot, it doesn't mean that you can just sit back and cross your fingers, hoping that you don't get sick. Instead, acquiring and maintaining true health and a strong immune system is like a marathon, not a sprint. It requires practice, training and ultimately, being proactive.
Yes, you can acquire and maintain a healthy and strong immune system, even when going through cancer treatment!
During my sons entire 3.5-year battle with cancer, he maintained an Absolute Neutrophil Count of 4,000. How?Through real food, detoxification, essential oils and cleaning up his environment. 
So, to help you, here's 5 ways you can support the integrity of your immune system to keep you healthy and strong during cold and flu season!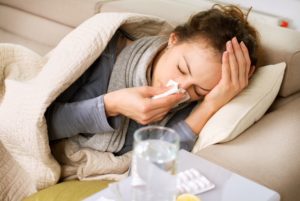 1. Significantly reduce refined carbohydrates and sugar in your diet.
Research shows that your immune system function is significantly impaired after consuming a meal high in glucose, which includes refined carbohydrates, ie. pasta, pizza, bread and of course, sugars. In fact, these studies show that your immune system is operating at half of its capacity for up to 5 hours after consuming that meal full of glucose, and other research has shown that a hefty dose of glucose can compromise your immune system for as long as 24 hours…all because you enjoyed that pizza, coke and chocolate chip cookie last night for dinner.
To help transition into eating more nutrient dense meals, here's my 30-Day Meal Plan. It will support your immune system function by focusing on healthy fats, proteins and carbohydrates and avoiding refined carbohydrates and sugars.
2. Take Orenda Immune
This supplement includes advanced ingredients that will support both cellular detoxification and a balanced immune system.
Follow the dosage recommendations.
3. Drink Broth
Although broth has recently received more deserved attention, many people still don't understand the benefits.
A good quality batch of bone broth has 19 essential amino acids, including arginine, which is necessary for immune system and liver function. Additionally, the bone marrow is an incredible source of rich nutrients that builds up the immune system. In fact, the marrow that is pulled from the bones during the long cooking process, which is full of lipids, such as alkylglycerols, is vital for the production of white blood cells.
So, a cup a day will certainly help keep the doctor away! To learn more ways bone broth can help fight cancer and grab my recipe, click here. And if you're intimidated with the process of making your own broth or don't think you have enough time, I highly recommend Osso Good. (Use this link: bit.ly/seasonbroth and this code: LOVEYOURGUT10 for $10 off.)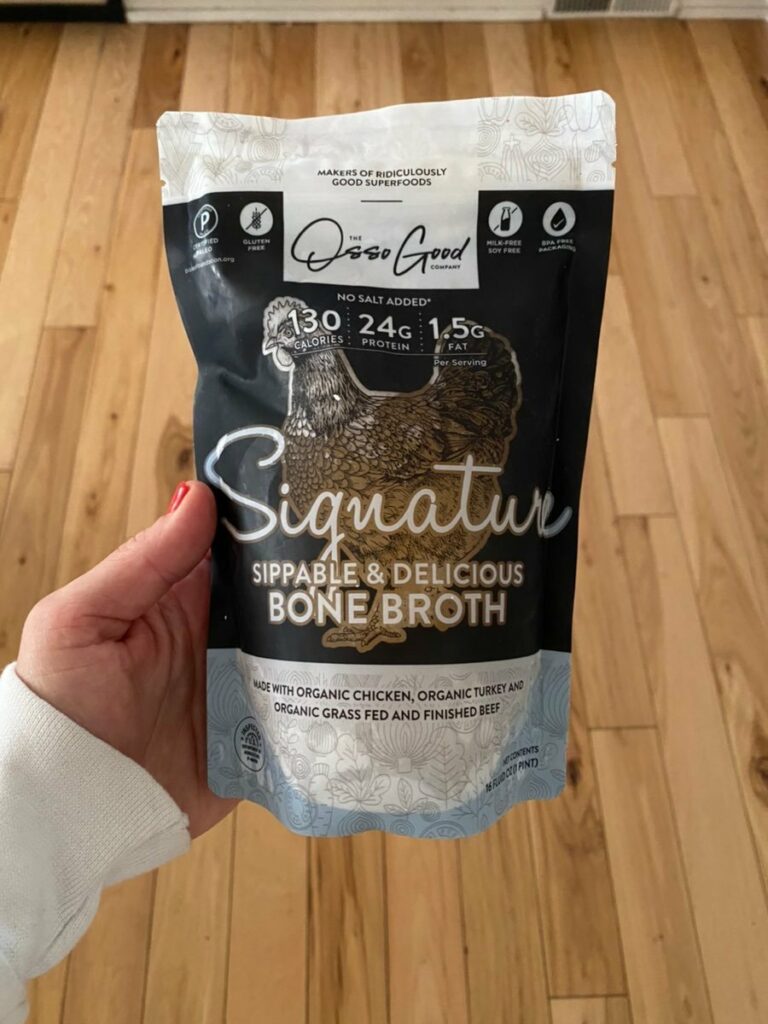 4. Eat 1 serving of fermented foods daily.
Studies show over 90% of your immune system is located in your gut. In fact, not only is your gut composed of mostly bacteria, many believe we are more bacteria than we are human.
So, if your gut is filled with healthy bacteria from live foods and probiotic rich nutrients, then you will have a strong immune system. And when your gut is composed of unhealthy bacteria, such as candida, yeast, etc., then your immune system will be weak.
An easy way to contribute to your gut health and keep the environment rich with good bacteria is to eat fermented live foods daily. A few of my favorites are sauerkraut, organic yogurt and raw kefir.  
5. Reduce Stress
Did you know that according to the American Medical Association, stress is responsible for more than 60% of disease?
When we are stressed, our body produces a hormone that literally suppresses the effectiveness of the immune system. Realistically, I know it's impossible to remove all stress. However, we can be more intentional about practicing self-care in order to manage stress better.
Some of my favorite ways to reduce stress include: laughing daily, practice forgiveness and to have sex with your spouse. I also shared in this post more detailed ways how you can improve your self-care and allow your body to truly heal.
So, what has worked for you to stay healthy during cold and flu season? I would love to hear in the comments below!
---
Please Note: This post contains affiliate links. If you make a purchase using these links, there's no additional charge to you, and I will receive a small commission from the company. This helps to cover the basic costs of this website and allows me to continue providing you with free content. Thanks so much for your support!