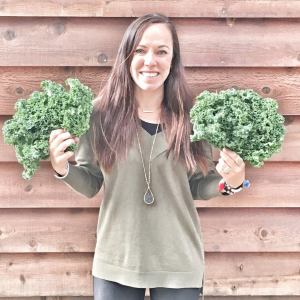 Kale, yeah! Seriously, I love me some kale. However, there are a couple of things about this super trendy and delicious veggie that you need to know:
It is full of antioxidants, particularly carotenoids and flavonoids, which protect against cancer. Here's what Wikipedia even states:
"Kale is very high in beta carotene, vitamin K, vitamin C, lutein, zeaxanthin and is reasonably rich in calcium. Kale, as with broccoli and other brassicas contain sulforaphane (particularly when chopped or minced), a chemical believed to have potent anti-cancer properties. Along with other brassica vegetables, it is also a source of Indole-3-carbinol, a chemical which boosts DNA repair in cells and appears to block the growth of cancer cells."
It is goitrogenic, which means that it can interfere with thyroid function. Therefore, I don't recommend eating it raw or juicing it raw!

To enjoy the most out of its health benefits, steam it or sauté first. To add it to your favorite smoothie, simply cook it in advance, drain it and freeze the cooked kale in ice cube trays. Then, when ready to make your smoothie, add as many frozen cubes as you would like.
And for those interested, here's some other foods that are goitrogenic:
Broccoli

Cauliflower

Brussels sprouts

Bok choy

Watercress

Arugula

Radishes

Turnips

Collard greens

Cabbage
To help, here's some of my favorite recipes:
Parmesan Kale Salad
Instructions
Steam kale for 4 minutes.
In a small bowl, combine lemon juice, garlic, cheese, olive oil and salt.
Place steamed kale in bowl and pour dressing on top.
Easy peasy...and super yummy!
Kale Breakfast Skillet
Ingredients
1 bunch of kale, chopped
1 lb. of small red potatoes, quartered
½ onion, chopped
butter or ghee
2 TBL Nutritional Yeast
Instructions
Melt butter or ghee in sauté pan and add the onions, cooking until caramelized.
Remove the onions and add more cooking fat, as necessary. Then, add potatoes, along with sea salt and pepper, to taste.
Once potatoes are cooked through (about 15 minutes), turn down heat and add kale to pan. Cover to allow the kale to steam.
Once the kale has wilted, add onions and combine well.
Serve with 1 tsp+ of Nutritional Yeast and sea salt and pepper, to taste.
Kale Chips
Instructions
Preheat the oven to 275F.
Remove the ribs from the kale and cut into 1 1/2-inch pieces.
Lay on a baking sheet and toss with the olive oil, garlic powder, cayenne and sea salt.
Bake until crisp, about 20 minutes. Turning the leaves halfway through baking time.
Notes
In the above image, I prepared the Kale Chips with nutritional yeast, ghee and sea salt.
---
Please Note: This post contains affiliate links. If you make a purchase using these links, there's no additional charge to you, and I will receive a small commission from the company. This helps to cover the basic costs of this website and allows me to continue providing you with free content. Thanks so much for your support!