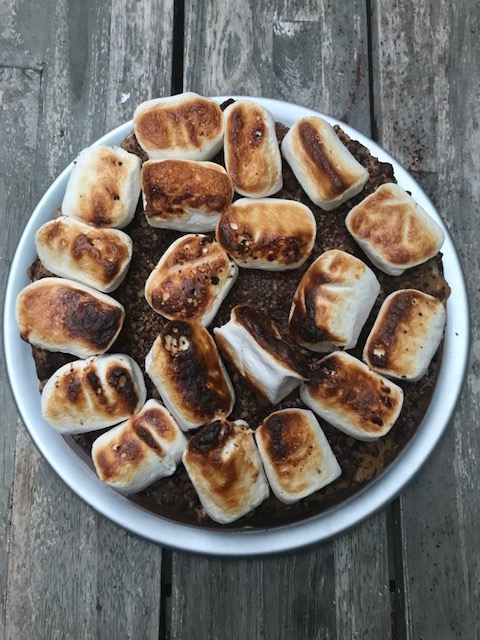 Can I be honest about something?
It wasn't until 2 years ago that I finally became less anxious about summertime campfires.
I knew that inevitably, someone was going to pull out the Kraft Jet Puffed and chemical-filled marshmallows along with the high fructose corn syrup filled graham crackers. And for the millionth time, I would have to tell my kids, "Sorry, those are unhealthy, but you can have a piece of the chocolate." Even though the chocolate wasn't perfect, it was certainly a better option than the other two.
Yes, I hated that my kids were missing out on this fun summertime tradition, but I also wasn't willing to compromise their health.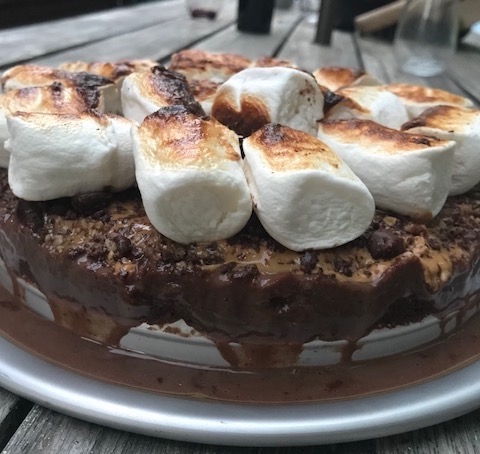 I know, I know…some of you are probably judging me thinking that I should just let them have one or are asking, "What's the big deal?"
And while I have more recently let go of some of my fears about unhealthy food and have found more freedom regarding the topic, there are two ingredients that my kids know they cannot have: high fructose corn syrup and food coloring!
Unfortunately, these two ingredients are in most marshmallows and graham crackers.
So, over the last couple of years, I have tested many homemade marshmallow recipes, and I have purchased different healthier brands of this famous summertime treat. Thankfully, we finally found options for both that we LOVE. (Here's my graham cracker recipe.) However, over the recent 4th of July holiday, my friend, Julie, created an unbelievable creation that my kids would agree certainly made up for the years they lacked.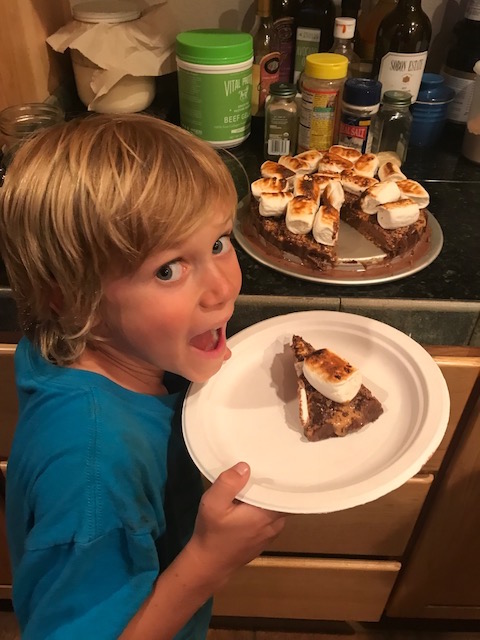 Not only does Julie have a love for good food, but I so appreciate her creativity in the kitchen! Seriously…she has been known to whip up an eggs benedict dish served over artichoke hearts, a homemade chicken & buffalo sauce dip that would blow your mind and she can master any cocktail recipe you have. I'm trying to convince her to start a blog to share some of these incredible recipes, but in the meantime, she offered to share my favorite "Julie Creation" so far, The S'mores Pie!
Enjoy!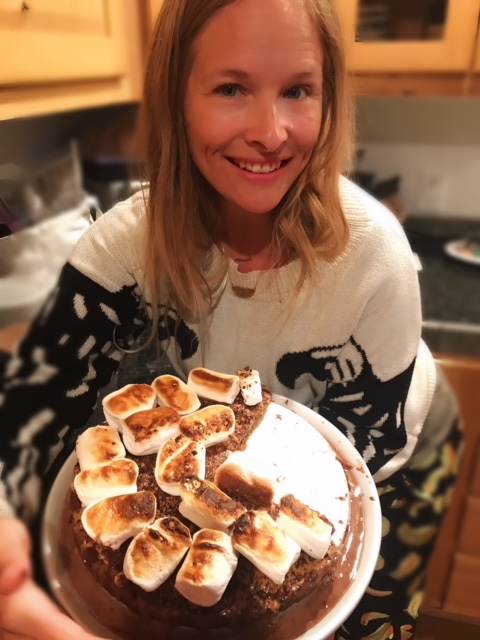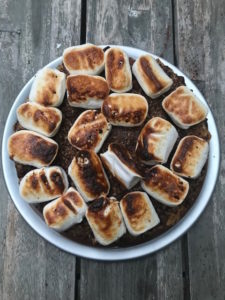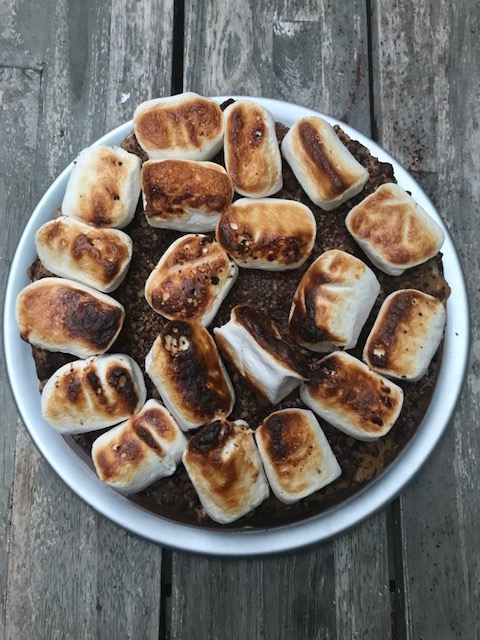 Print
S'mores Pie
Ingredients
Graham Crust Ingredients:
Dry Ingredients:
Wet Ingredients:
Chocolate Pudding Ingredients:
Crunchy Layer Ingredients:
Marshmallow Ingredients/Recipe:
Instructions
Graham Crust Instructions:
Preheat oven to 350 degrees.
Grease pie pan or spring form pan with butter.
Mix dry ingredients.
In separate bowl, whisk wet ingredients.
Pour wet ingredients into dry ingredients. Mix.
Oil your fingers and press the dough firmly to bottom of your pan.
Bake 12 mins. Let cool completely.
Chocolate Pudding Instructions:
Part 1:
Shake coconut cream in the can to mix well before opening.
Open the can and pour 1/4 cup of cream into a separate bowl. Pour the remaining cream into a sauce pan.
Add gelatin to the 1/4 cup portion of coconut cream and stir together. Set aside.
Bring coconut cream in sauce pan to light simmer.
Sift cocoa powder into simmering pot. Stir. Add maple syrup into simmering pot. Stir.
Bring mixture in pot to a light boil and remove from heat. Let cool for 5 mins and then add to your gelatin mixture. Pour into graham crust.
Chill for at least four hours.
Note: You can double this for more filling. However, don't overdo the maple syrup. You want this S'mores layer to be more bitter chocolate because the marshmallows/crunch layer is sweeter.
Part 2:
After the pie is completely cool, add a thin layer of nut butter.
Crunchy Layer Instructions:
Using a blender/Nutribullet, rough chop nuts and chocolate chips. Do NOT blend too long…it will turn into nut butter!
Sprinkle on top of nut butter spread.
Chill in fridge.
Marshmallow Instructions:
Follow the instructions/recipe listed on The Urban Poser to make homemade marshmallows.
Then, move oven rack to the second highest and turn oven setting to Broil.
Sprinkle prepared marshmallows on top of pie.
Place the pie in the oven and check every minute to make sure not to burn the marshmallows! I also flipped the marshmallows to toast both sides.
Note: The heat from above will melt the nut butter and chocolate. So, if you want a more "put together" or chilled pie, roast the marshmallows separately and then place on top.
---
Please Note: This post contains affiliate links. If you make a purchase using these links, there's no additional charge to you, and I will receive a small commission from the company. This helps to cover the basic costs of this website and allows me to continue providing you with free content. Thanks so much for your support!