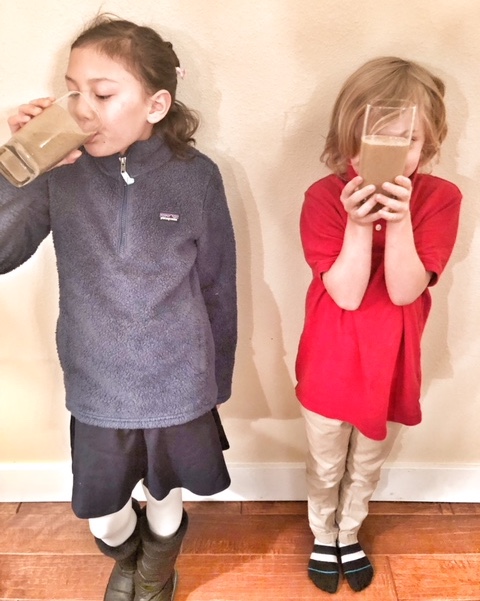 The alarm goes off and suddenly you find yourself in a frenzy looking for clothes, packing lunches, making breakfast, asking your kids to brush their teeth for the 400th time, hunting down shoes and discovering the homework that little Johnny didn't tell you about.
Sound familiar?
I don't know about you, but it's been a bit more difficult to get into a morning breakfast routine after the winter break.
I was even left in tears once last week after my kids went to school because I felt so badly for how stressful the morning had been and how many times I had yelled at them. So, I took some time to sit down and reflect on the most stressful parts and looked for ways to create change.
The answer and area of contention…Breakfast!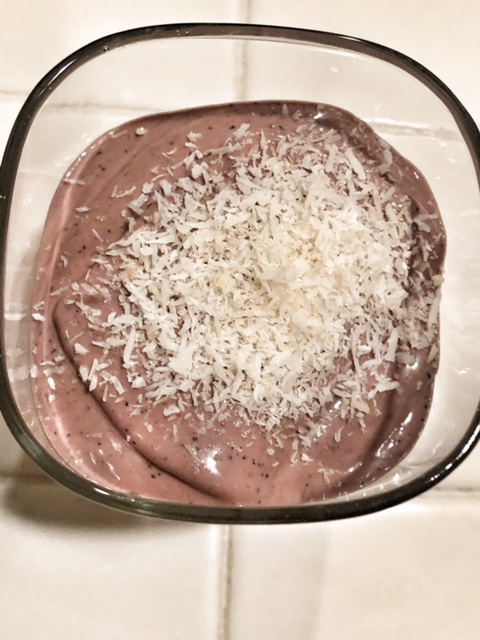 We all know it's the most important meal, especially for growing kids, but my kids aren't hungry right when they wake. In fact, they typically don't eat for at least an hour or more after a good night's rest. However, I've been forcing them to sit down and eat a meal in a hurry before leaving for school.
It also hasn't helped that my daughter has become less and less interested in eggs, and therefore, she gets whiny and frustrated when that's what she's served.
Plus, I realized that our kids actually really enjoy talking to us in the morning and goofing off with each other…and this is FAR more important than making them sit down to eat.
So, what did I do?
Well, we do NOT just skip it. Instead, we just make it easier, more enjoyable and still packed full of nutrition…
We make smoothies!
You guys, this has literally changed our entire morning routine. We can enjoy spending our slower-paced mornings together, and the kids have the time to goof off while they're getting ready for school.
Then, as they walk out the door, I hand them their nutrient-dense smoothie in this convenient to-go container for them to enjoy on the 15-minute drive to school!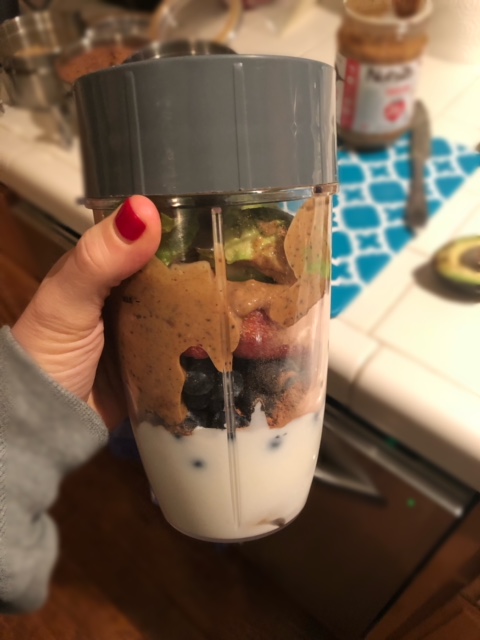 So, to help you make them, here's a few tips:  
Allow your kids to pick out their favorite ingredients and allow them to offer honest feedback on what they do or don't like. They'll more likely enjoy the smoothie this way, and you can easily modify most recipes.

You may need to pack a heartier morning snack for their lunch just in case they need more protein and fat before lunch. Here's some snack and lunch ideas.

If it's necessary to sweeten a smoothie, add more bananas.

Water can be used as a base if there are no other options available. However, it may also be necessary to add more fat, i.e. avocado, coconut oil, coconut butter, nut butter.
I've been using a Nutribullet to make our smoothies, and it works great.

If you're using fresh fruit, freeze it! Then, you won't need to add ice, and it will be perfectly chilled with a great consistency.

Always use organic fruit, and ideally, all organic ingredients.
To get you started, here's 4 of our favorite smoothie recipes. Enjoy!
Also, I'd love to know your favorite smoothie recipe so we can try it out too! Please share it in the comments below.
---
Please Note: This post contains affiliate links. If you make a purchase using these links, there's no additional charge to you, and I will receive a small commission from the company. This helps to cover the basic costs of this website and allows me to continue providing you with free content. Thanks so much for your support!